Treasury rally revs up again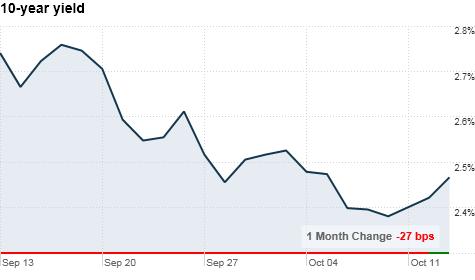 NEW YORK (CNNMoney.com) -- Treasury prices rose Wednesday, turning around from earlier losses, as investors welcomed an announcement that the government will buy $32 billion in bonds through mid-November.
What's moving prices: Treasurys fell most of the day after investors welcomed strong earnings from Intel (INTC, Fortune 500) reported and JPMorgan Chase (JPM, Fortune 500).
Bonds are traditionally thought of as a lower risk alternative to stocks, so when confidence in the economy is strong, Treasurys often fall. And vice versa.
But later in the afternoon, Treasurys turned around and staged a rally after the Treasury Department said it will buy $32 billion in Treasurys through mid-November. Anticipation of lower supply often pushes prices up.
Lately, demand for Treasurys has surged as Wall Street counts on recent weak economic reports to push the Federal Reserve into another round of asset purchases.
Since September 2008, the Fed has pumped about $2 trillion into the economy through asset purchases -- a policy known as quantitative easing. But when the Fed emerged from its latest policy-making meeting in September with a bearish outlook, it dropped hints that led Wall Street to think more purchases are on the way -- and soon.
"In light of all the recent signals, 'soon' almost certainly will be the November FOMC meeting," said Kevin Giddis, president of fixed income capital markets, in a note to investors Wednesday.
On Tuesday, minutes released from the Federal Open Market Committee's Sept. 21 meeting, confirmed the bank is leaning towards more quantitative easing.
What yields are doing: Yields on 10-year notes stayed at 2.42% and the 30-year bond stayed at 3.82%. The 5-year note fell to 1.12%, down from 1.14% the day before.
The 2-year note's yield hit 0.37%, down from 0.38% on Tuesday.
Prices and yields move in opposite directions.
Auctions: A government auction of $21 billion in 10-year notes on Wednesday drew weaker demand than previous auctions for the same notes. The notes were auctioned at a yield of 2.475%, the 10-year's lowest yield at auction since January 2009.
On Tuesday, the government issued $32 billion in 3-year notes. But the auction -- which was held at a record low yield of 0.569% -- brought in less demand than the five previous auctions for the short-term notes.
On Thursday, the government will auction $13 billion of 30-year bonds.