Oil, gold, corn... oh my!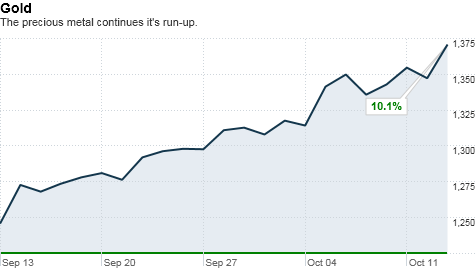 NEW YORK (CNNMoney.com) -- Commodity prices are surging across the board as the U.S. dollar remains under pressure from building speculation that the Federal Reserve is about to take action to aid the stumbling economy.
Oil and gold prices have been on a tear this month. After jumping 1.5% last week, crude prices spiked more than 1% again Wednesday. And gold continued it's record-breaking streak, surging nearly 2% to settle at a new record high of $1,370.50 an ounce.
Meanwhile, the Reuters-Jefferies CRB index, a key benchmark for global commodities, surged to its highest level since 2008.
Grains and soft commodities like corn, sugar, cocoa, coffee and cotton were also in the thick of the buying frenzy, with prices continuing to hover at yearly highs. (Track commodity prices)
"I really haven't seen prices like this since the early 1980s," said Dan Flynn, an energy trader at PFG Best. "A real cause and effect is trickling down into the markets based on low supply, high demand and a weaker dollar."
On Tuesday, meeting minutes released by the Federal Reserve signaled that the central bank could take additional steps to bolster the economy as soon as November.
That could mean the central bank would resume purchases of assets such as long-term Treasurys, a policy known as quantitative easing, which would pump money into the economy.
The anticipation of the central bank flooding the economy with more dollars has weakened the U.S. currency and boosted the appeal of commodities as an alternative investment.
"Quantitative easing fears are propelling prices higher because the dollar is being devalued," said Flynn. "When there's a weaker dollar, people want to get away from the paper currency and start to want the actual commodity itself."
At the same time, demand for oil is picking up, with the International Energy Agency raising its forecast for global oil demand this year and next. And global demand for food-related agricultural commodities like corn and other grains continues to be strong.
"The fact that global demand is very strong for all of these commodities is definitely playing a part in this rally we're seeing, especially in the corn market," said Flynn.
While corn prices took a slight step back Wednesday, the grain hit 2-year highs earlier in the week after an unexpectedly weak crop forecast from the U.S. Department of Agriculture last Friday propelled prices.
How long can the rally last? "As long as we have the fear of quantitative easing," said Flynn.
"We might see a little unwinding of positions and prices go down here and there, but the fact that the Fed is coming out and saying it's opening the door to printing more money, you're going to have speculators and funds keep coming out and buying commodities," he added.