Drilling ban's job impact less than feared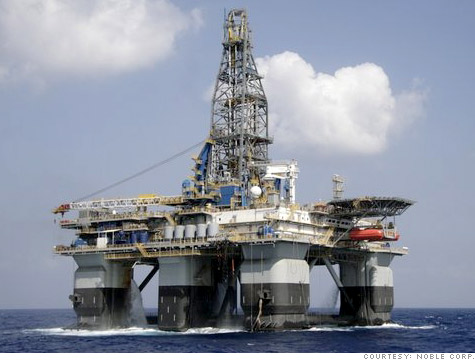 NEW YORK (CNNMoney.com) -- With the end of the deepwater drilling moratorium, it seems that fears of massive job losses among drill workers may have been overblown.
About 9,700 people were directly employed in deepwater drilling before the moratorium was imposed in May, according to a recent Commerce Department report. Of those workers, about 2,000 were expected to lose or leave their jobs due to the 6-month moratorium, the report said.
Drill jobs are just a small fraction of the thousands of Gulf area jobs directly and indirectly supported by the offshore drilling rigs. Dock workers, trucking services, and food suppliers, many of which are supplied by local Gulf Coast businesses, are all dependent on the rigs operating.
After all was said and done, industry officials say that only a small percentage of rig workers lost their jobs. Rig operators went to great pains to keep high-skilled workers on their books so they could quickly get them back to work when the ban was lifted.
"We have tried to avoid layoffs, but that doesn't mean there hasn't been economic pain," said John Breed, spokesman for Noble Corp., a drilling rig operator with seven rigs in the Gulf of Mexico hit by the moratorium. "While it has been costly, we have tried to keep as many [workers] on board as possible."
The ban on drilling was instituted in the wake of the Deepwater Horizon explosion that killed 11 rig workers and caused one of the worst environmental disasters in U.S. history. Secretary of the Interior Ken Salazar repealed the moratorium Tuesday, citing the tighter safety regulations and oversight that his department has implemented.
But the oil industry isn't convinced that the lifting of the moratorium will immediately help oil jobs in the Gulf region.
In order to obtain a permit to drill from the government, companies need to prove that they meet the new stringent safety rules. The process is similar to what shallow water drillers have been following, and the industry says their experience suggests deep water drilling won't begin soon.
Even though the drilling moratorium was only applicable to deep water rigs, new permits to shallow water rigs all but stopped since the Deepwater Horizon spill. The oil industry has called this the "de facto" moratorium.
As the oil industry waits to see how the newer, tighter rules shake out, hiring is on hold. "We would have been creating jobs, but we shelved those plans until we have some certainty that we can go back to work," said Breed.
Meantime, workers are on pins and needles, even those who are getting paychecks. "As long as they are in this kind of mid-ground between the moratorium ending and not being able to go back to work, I think there will be this economic uncertainty," said Breed.