Apple shares top $300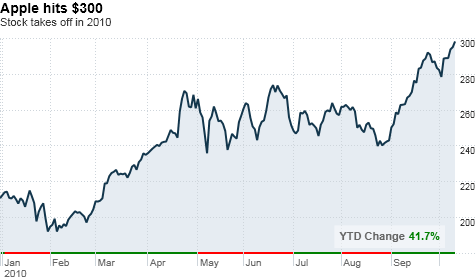 NEW YORK (CNNMoney.com) -- Apple's stock price crossed the $300 benchmark for the first time on Wednesday, driven by the success of the iPad and other products.
Shares of Apple (AAPL, Fortune 500) jumped to $300.51 per share in the first few minutes after the opening bell. They held those most of those gains throughout the day, closing at $300.14.
This has been a great year for Apple's stock, which has surged about 40% year-to-date. That's compared to the Nasdaq, which has gained about 1.2% so far this year.
"It's the runaway success of the iPad and the continuing success of the iPhone," said Andy Perkins, analyst for Societe Generale in London.
He said that Apple has not had to lower the price of the iPad, despite having produced a large volume of the devices since their debut earlier this year.
"The anticipation was as they shipped more the price would lower, but the margins have kept much higher than people had anticipated," said Perkins.
Apple, based in Cupertino, Calif., plans to announce results for its fiscal fourth quarter on Oct. 18.
The company is expected to announce a 91% gain in quarterly revenue of $18.8 billion and a 123% gain in earnings to $4.05 per share, according to a consensus of analyst opinion from Thomson One Analytics.