Yahoo surges on report AOL wants to buy it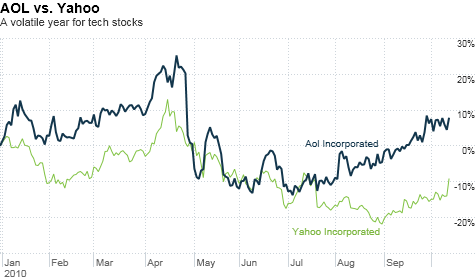 NEW YORK (CNNMoney.com) -- Yahoo's stock price surged in early trading Thursday on reports that rival Internet portal AOL is considering a takeover of the company, with some help by private equity firms.
Yahoo (YHOO, Fortune 500) stock soared 6% on the report by the Wall Street Journal, which cited "people familiar with the matter." They held some of their gains throughout the day, ending trading up 4.5%, at $15.93.
The report said that Silver Lake Partners and Blackstone Group LP are among the private equity firms that are considering a purchase of Yahoo.
AOL (AOL) would need help with the financing, as its market capitalization of $2.68 billion is about one-ninth the size of Yahoo's market cap of $20.56 billion. Gathering a group to finance the deal would be tricky, but not impossible.
ThinkEquity analyst Aaron Kessler said a potential merger provides a catalyst for driving Yahoo's "inexpensive" shares -- a catalyst that does not otherwise exist. In his note to investors, Kessler also wrote that a merger would "provide clear revenue and operating synergies on both display and search"
But there are also negatives, said the analyst, such as the fact that a merger would overshadow Yahoo's improved bottom line performance that Kessler projects for 2012.
He also referred to the report that Yahoo might sell its 40% stake in Alibaba and said this would be a bad idea, since the Chinese online trading platform is Yahoo's "most valuable long-term asset."
Time Warner (TWX, Fortune 500), which owns CNNMoney.com, spun off AOL late last year.