What do Apple and IBM have in common?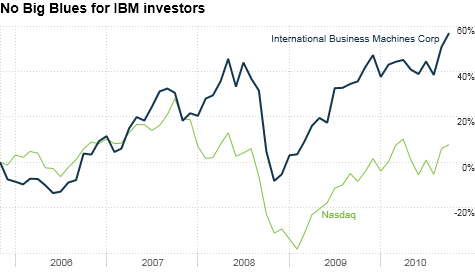 NEW YORK (CNNMoney.com) -- IBM is trading at an all-time high. That's not a misprint.
Yes, stodgy Big Blue is once again a sizzling tech stock -- just like more sexy and rapidly growing consumer techs like Apple (AAPL, Fortune 500), Amazon.com (AMZN, Fortune 500) and Netflix (NFLX). The stock's up about 10% in the past six months.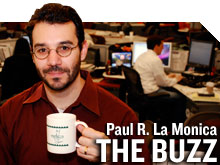 What's behind IBM's amazing run lately?
Is it just benefiting from the recent rally in the broader market? The suddenly weakening dollar? Excitement about recent acquisitions? Or maybe it's the fact that indie rock darlings Arcade Fire have a song on their new album that mentions the legendary chess matches between Gary Kasparov and IBM supercomputer Deep Blue?
Okay. That last part probably isn't having an impact. But IBM (IBM, Fortune 500), much like Arcade Fire, is undeniably cool. Still, here's the funny thing. One of the reasons IBM may be doing so well is because it's boring and predictable.
When I was an editor at Red Herring in 2000 (yeah, I drank the dot-com Kool-Aid too) one of my writers wrote a piece about IBM being a Big Blue slug because of its reputation for slow growth. Amazingly, due to a content sharing agreement that this site, then known as CNNfn.com, had with Red Herring, you can still read that story here.
It's interesting how little has changed in the past 10 years. IBM profits are still expected to increase at a snail's pace (for a tech stock at least) -- with analysts forecasting earnings per share growth of 13% this year and 10% in 2011.
And sales growth is even more mundane. Analysts are predicting top-line increases of only about 3% in 2010 and next year. But IBM is no longer being punished for its sluggishness. It's now something to be applauded.
In a volatile market, there's nothing wrong with being a company that has a lot of cash, reliably posts earnings growth and pays a solid dividend to boot.
"IBM is your typical slow-growing, staid and steady type of stock. The fact that it's doing well tells me the market is shifting its focus toward higher quality stocks," said Wasif Latif, vice president of equity investments with USAA Investment Management Company in San Antonio, which owns IBM in several funds.
Latif added that the wild swings in the greenback as of late should also be a plus for the company. IBM generated nearly a third of its sales in the second quarter from its Europe, Middle East and Africa division. So a stronger euro should lead to higher profits when translated back into weaker dollars.
To be fair though, IBM has more going for it than its nearly 2% dividend yield, more than $12 billion in cash and a strong euro boost. Big Blue has been making some interesting acquisitions lately to keep it in pace with other big software firms like Oracle (ORCL, Fortune 500), Microsoft (MSFT, Fortune 500) and SAP (SAP).
IBM agreed to acquire marketing software firm Unica in August for $480 million and also announced plans to buy data warehouse company Netezza last month for $1.7 billion.
Craig Hodges, co-manager of the Hodges Fund and Hodges Blue Chip 25 Fund in Dallas, said IBM isn't getting enough credit for being innovative.
"People don't talk about IBM as being on the forefront of high tech since the world is obsessed with Apple and other consumer tech stocks," said Hodges, who owns IBM in both funds. "But IBM is a sleeper -- especially in cloud computing."
Along those lines, software clearly is the shining star of IBM, accounting for about 20% of the company's total sales in the second quarter. Only IBM's global tech services unit took in more revenue.
What's more, software made up more than 40% of IBM's pre-tax profits and the division's gross margins were a scintillating 87%.
"The good thing about IBM is that it has made a transition from the ups and downs of hardware to a more diversified mix of businesses in the past decade. Of all the conglomerates they have done a better job of transitioning themselves," said Sunil Reddy, a portfolio manager focusing on tech stocks for Apex Capital Management Dayton, Ohio. His firm does not own IBM.
It's no wonder then that HP (HPQ, Fortune 500), which has fashioned itself as an IBM clone over the past few years, wants to get even bigger in software. It recently made the surprise move of tapping former SAP executive Leo Apotheker to be its new CEO.
But the best thing about IBM right now is that even though it has momentum on its side, investors are still treating it like a boring blue chip. Shares trade for just 11 times 2011 earnings estimates.
Hodges calls the stock "extremely undervalued." It's hard to argue with that.
Baby's all growns up! IBM isn't the only stock on fire lately. Casino operators Wynn Resorts and Las Vegas Sands hit 52-week highs Tuesday. That prompted me over on Twitter to challenge my now 1,500 followers (woo-hoo!) to answer this ridiculously easy name that movie quote: "Vegas, baby. Vegas!"
The winner is Tom Bean, aka @tabean8589, who correctly identified that as from "Swingers." Love that movie. Reminds me of college and hours wasted spent playing EA NHL on Sega. Jeremy Roenick really was ridiculous.
- The opinions expressed in this commentary are solely those of Paul R. La Monica. Other than Time Warner, the parent of CNNMoney.com, and Abbott Laboratories, La Monica does not own positions in any individual stocks.