Countrywide's Mozilo to pay $67.5 million settlement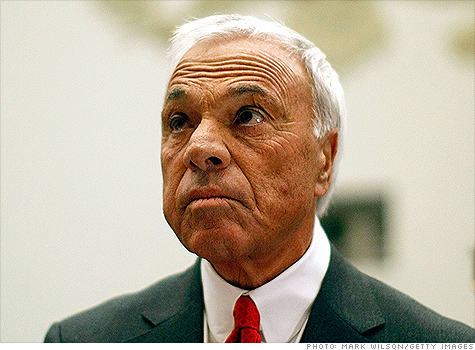 NEW YORK (CNNMoney) -- Angelo Mozilo, the former co-founder of Countrywide Financial, agreed Friday to pay $67.5 million to the SEC to settle fraud charges.
Mozilo will pay $22.5 million in the largest penalty ever on a senior executive of a public company, according to the Securities and Exchange Commission. He will also give up $45 million in "ill-gotten gains," the SEC said.
The whopping fine was announced at a court hearing before U.S. District Judge John Walter in Los Angeles.
"Mozilo's record penalty is the fitting outcome for a corporate executive who deliberately disregarded his duties to investors by concealing what he saw from inside the executive suite," Robert Khuzami, director of the SEC's Division of Enforcement, said in a statement.
What Mozilo kept to himself, said Khuzami, was "a looming disaster in which Countrywide was buckling under the weight of increasing risky mortgage underwriting, mounting defaults and delinquencies, and a deteriorating business model."
Mozilo, who has long been the poster boy of the subprime mortgage meltdown, was slated to appear in the federal courthouse on Tuesday.
By settling the SEC charges, Mozilo will avoid a trial that could have provided fodder for future criminal charges.
Former Countrywide President David Sambol also settled, agreeing to give up $5 million and pay a $520,000 penalty. Ex-Chief Financial Office Eric Sieracki will pay a penalty of $130,000. All fines will be returned to "harmed" investors.
The three former executives were charged last year with defrauding investors by hiding the growing risks of the company's mortgages.
The SEC accused only Mozilo of insider trading, alleging that he sold millions of dollars worth of Countrywide stock after he knew the company was doomed.
The defendants had previously denied the accusations, saying details about Countrywide loans were properly disclosed. In Friday's settlement, they did not admit or deny the charges.
Sambol's attorney, Walter Brown, issued a statement defending his client.
"Bank of America will pay the entire disgorgement amount prescribed in the settlement on Mr. Sambol's behalf," Brown said. "While the agreement with the SEC prevents him from discussing the case, it makes clear that Mr. Sambol does not admit to any of the SEC's assertions."
Bank of America (BAC, Fortune 500), which acquired Countrywide in 2008 for $8 a share after the deteriorating quality of the mortgage lender's portfolio was realized, agreed in August to pay $600 million to settle similar charges.
The plaintiff lawyers on the case called the penalty the largest shareholder settlement since the mortgage meltdown started in 2007.