Tablets that will -- and won't -- be in holiday stockings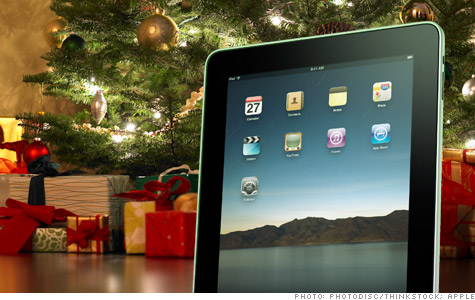 NEW YORK (CNNMoney.com) -- Tablet computers are poised to be a hit for the holidays. Some tech companies will score big -- while others won't have a tablet at all.
The tablet that started the hype, Apple's iPad, is on track to be the winner. It will be ubiquitous for the next two months, with a splashy presence at big-box retailers Wal-Mart (WMT, Fortune 500), Best Buy (BBY, Fortune 500) and Target (TGT, Fortune 500), plus Apple's own stores.
An unexpected deal announced Thursday will also bring the iPad to Verizon Wireless' 2,000 retail outlets -- and, not to be outdone, longtime Apple partner AT&T chimed in with its own plan to sell iPads at its 2,200 stores.
That gives Apple around 10,000 retailers stocking its gizmo, which starts at $500 for a Wi-Fi-only version.
Stifel Nicolaus analyst Doug Reid sharply increased his estimate last month for iPad sales in Apple's fourth quarter to 5.4 million units, up from 3.6 million, citing "robust demand" in the U.S. and Europe. Another analyst's number-crunching suggests Apple's suppliers are on track to crank out 45 million iPads in 2011.
Apple (AAPL, Fortune 500) declined to comment on up-to-date iPad sales figures, but Colin McGranahan, retail analyst at Bernstein Research, estimates that Apple has sold 8.5 million iPads so far.
"By any account, the iPad is a runaway success of unprecedented proportion," McGranahan said in a note to investors last week.
The iPad won't be the only option for those hoping Santa or a loved one coughs up a tablet. Rival devices from Samsung, Dell, Lenovo and others -- most running on Google's Android operating system -- are poised for a just-in-time release.
No Windows tablet on the gift list: One tech kingpin will be left out in the cold: Microsoft (MSFT, Fortune 500) doesn't seem to have a stocking stuffer ready for the holiday season.
The "t" word was verboten at this week's Windows Phone 7 launch, at which CEO Steve Ballmer pumped up his company's new phone software but stayed mum about the tablet strategy he said in July is Microsoft's "job one urgency."
Ballmer declined at the time to give an exact timeline, saying only that Microsoft tablets will be ready "as soon as they're ready" and "it ain't a long time from now." Earlier this month, in an address at the London School of Economics, Ballmer said "you'll see new slates with Windows on them ... this Christmas."
But the holiday season is fast approaching, and no major manufacturers have announced a forthcoming tablet that will run on Windows 7 -- at least not in a form that can compete with the iPad.
That leaves Microsoft scrambling to catch up in the tablet market after a few big missteps.
Ballmer infamously killed off a tablet device that Microsoft had been incubating for years before the release of the iPad. Instead, Microsoft intends to work with device manufacturers on tablets that can run Windows 7. But Ballmer's plan has been foiled so far: tablet makers are gravitating toward Google's Android as their system of choice.
iPad rivals: While Microsoft falls behind, other big tech companies are looking to eat some of Apple's lunch.
The Streak, Dell's (DELL, Fortune 500) first tablet, came to America in August after a European launch. The device runs on Android, can make phone calls and sells for $299 with a two-year AT&T (T, Fortune 500) contract. But with a five-inch touchscreen, the Streak is more like an oversized smartphone than a true iPad rival.
Other forthcoming Android tablets include the Lenovo LePad and Samsung's Galaxy Tab. BlackBerry maker Research in Motion (RIMM) unveiled its PlayBook last month, which will run on a custom operating system from QNX Software Systems.
But the PlayBook won't be available until 2011 -- the same problem many would-be iPad killers face. That leaves Apple standing alone, ready to reap a holiday windfall.
Deutsche Bank's Chris Whitmore said in a note last week that Apple's lead in the tablet space is "overwhelming." He thinks the spate of Android tablets aren't different enough from each other, and that iPad competitors will be hard-pressed to beat the Apple on user experience or price.
His conclusion: "Ultimately, we expect the slew of upcoming competition to fall flat."