A $300 million bet on solar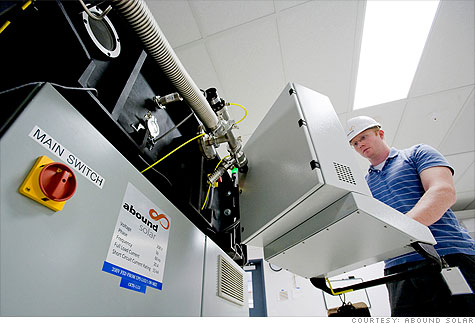 KOKOMO, Ind. (CNNMoney.com) -- Twenty miles south of Kokomo, Ind., sits an empty, 800,000-square foot factory built in the late stages of the now-dissolved DaimlerChrysler union. The factory, a victim of the breakup, never produced a single thing.
That may soon change.
Abound Solar, a scrappy Colorado startup barely three years old, recently won a $400 million stimulus loan guarantee from the federal government to make thin-film solar panels in the United States.
Abound plans to put three quarters of that money into the Kokomo plant, hire as many as 900 people by early 2012 and start exporting to Germany.
It almost sounds too good to be true. Indeed, town officials in Kokomo -- striving to recover with a big infusion from the Obama administration's stimulus programs -- seem to hold Abound's plans with guarded enthusiasm.
Company officials, meanwhile, are confident.
"This is a key piece of our manufacturing strategy," said Mark Chen, Abound's director of marketing. "Our contracts with our customers require us to continue to grow."
Abound, a private equity-backed company, grew out of a project at Colorado State University.
The company specializes in thin-film solar panels. Thin film panels are generally used in large-scale applications like big solar arrays run by utilities or massive rooftop systems that sit atop big box stores.
Abound has expanded rapidly over the past few years, going from just four employees in 2007 to 350 today. By 2013 its hopes to have 1,500.
The company chose the Kokomo area because it's close to the raw materials required for the panels, namely glass produced in cities like Toledo, Ohio, which also supplies windshields and windows for the auto industry, Chen said.
Like other companies that set up shop in the Midwest, Abound was also attracted by the skilled workforce, tax incentives and access to transportation to ship products.
"It's a straight shot up to the Great Lakes, on a boat, and it's out," Chen said.
Analysts say there's a healthy market for the the kind of thin film solar panels that Abound is making, especially if Europe keeps mandating more renewable energy.
But other companies are also in on this play.
One of them, First Solar, is big and has been producing such panels long before Abound came into existence.
Perhaps even more worrisome are two big boys entering the thin film market: One is Stion, which is 50% owned by Taiwan Semiconductor, one of the world's largest semiconductor companies. The other is Primstar Solar, which recently received big backing from General Electric.
"These companies have enormous amounts of cash, and are very good at making large amounts of components on a cheap basis," said Johanna Schmidtke, a senior analyst at the emerging technologies firm Lux Research.
That said, Schmidtke said she remains "hesitantly positive" on Abound.
Analysts said the federal grant to Abound is a good sign, and means the plant near Kokomo will more than likely be churning out products in the near future.
What's less certain is whether it will still be making things five years down the line.