Motor Trend SUV of the Year: Porsche Cayenne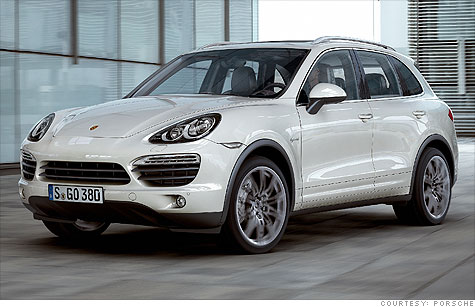 NEW YORK (CNNMoney.com) -- Motor Trend magazine named the 2011 Porsche Cayenne as the winner of its SUV of the Year Award on Tuesday.
The Cayenne, originally introduced in 2002, was redesigned and re-engineered for the 2011 model year.
"Not only are the Cayenne's technical advancements compelling, but its increased fuel efficiency, high value rating, improved interior and exterior design features result in an unbeatable combination of performance and capability," said Motor Trend.
Motor Trend's editorial staff selected vehicles based on advancement in design, engineering excellence, efficiency, safety and value. Testing involves a week-long process including track tests and "real-world" driving.
Motor Trend noted that the Cayenne didn't win the award when it was first introduced but "the technical enhancements made between then and now are compelling."
The SUV's new design looks more compact despite being slightly larger than the previous version, the magazine noted.
"The judges agreed the Porsche Cayenne was a multi-talented crossover vehicle that drove like a Porsche on the road, yet with its height adjustable suspension and computer-controlled four-wheel drive system, was almost as capable as a genuine off-road SUV," the magazine said in its announcement.
The Cayenne is available with a V6 engine, a non-turbocharged or turbocharged V8 engine, or with an all new hybrid powertrain which includes a supercharged V6. The 380-horsepower Cayenne Hybrid gets EPA-estimated fuel economy of 21 mpg in the city and 25 on the highway.
A rarity among SUVs, the V6-powered base Cayenne is available with a six-speed manual transmission. All versions of the Cayenne, including the hybrid, are available with manually shift able 8-speed automatic transmissions.
Cayenne prices start at $47,675, but a fully loaded Cayenne Turbo can cost as much as $168,000, Motor Trend said. A typically equipped mid-priced Cayenne S recently tested by CNNMoney.com was priced at $82,000.
Motor Trend gives out three vehicle awards -- SUV of the Year, Car of the Year and Truck of the Year -- annually. Motor Trend's Car of the Year will be announced in November.