Bond traders retreat to sidelines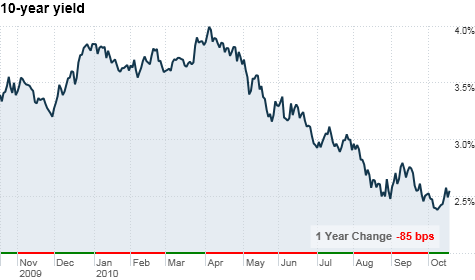 NEW YORK (CNNMoney.com) -- Treasuries turned around from Monday's rally, as investors shrugged off the latest housing data.
Prices on the 10-year note and 30-year bond fell slightly on weak demand, while shorter term notes, including the 2-year and the 5-year, inched up.
Traders were taking a wait-and-see stance as they awaited clarity on the Federal Reserve's plans.
Financial markets are already counting on a major announcement from the Fed in November -- launching a second large round of asset purchases, or so-called quantitative easing -- as a way to stimulate the economy.
Anticipating that a large government purchase would push Treasury yields down, investors have been trying to front-run the government's trade -- leading to a recent surge in bonds, said Kenneth Naehu, managing director and head of fixed income at Bel Air Investment Advisors.
But without any big buys from the government on Tuesday, Naehu said traders are waiting for other hints as to what Fed officials could decide at their next meeting in November.
The Fed bought $6.3 billion in Treasuries Monday and $4.7 billion last week, but didn't announce any purchases on Tuesday.
"Today, with the lack of government support in there, you could have buyers and sellers of Treasuries on the sidelines waiting," Naehu said.
This week, bond traders will also be closely watching more than a dozen speeches from Fed officials for more clues about monetary policy going forward.
At separate events on Tuesday, Atlanta Fed President Dennis Lockhart and Chicago Fed President Charles Evans -- both non-voting members of the Fed -- pushed for more quantitative easing.
Earlier on Tuesday, a reading on new home construction in September blew away expectations, however, building permits lagged behind.
What yields are doing: The yield on the benchmark 10-year note rose to 2.52%, from 2.51% Monday.
Yields for the 30-year bond inched up to 3.96%, from 3.94%. The 5-year note fell to 1.12%, and the 2-year note hit 0.37%.
Yields move in opposite directions of bond prices.