Deficit fighting: The first cut is the deepest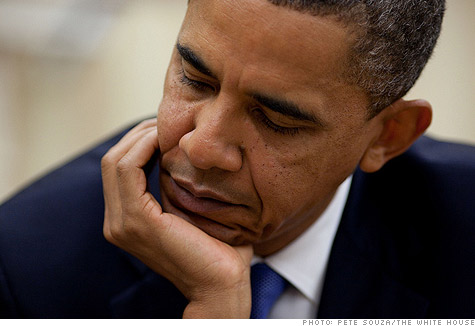 NEW YORK (CNNMoney.com) -- Cutting the deficit.
President Obama has promised to do it. He convened a bipartisan fiscal commission to recommend ways to do it. And, as always, it's entirely unclear whether Congress will have the will to do it.
But one thing is clear: Even with all the willpower in the world, getting the annual deficit down to 3% of the economy by 2015 -- Obama's goal -- will be no mean feat. It could mean having to cut spending or raise taxes by $240 billion that year alone.
As if that's not tough enough, nearly two-thirds of the budget is effectively impossible to cut in the short term. Namely, Medicare, Social Security, other mandatory programs and interest on the debt.
For starters, interest on the debt isn't negotiable.
Meanwhile, there are no quick savings in the entitlement programs. Any changes Congress might make will most likely be phased in slowly and savings won't show up this decade, let alone by 2015.
In addition, near-term changes that could be made to Medicare and Medicaid have already been spoken for in part to pay for health reform.
"Most of the politically viable changes were already enacted as part of the health reform act," said Peter Orszag, Obama's former budget director, on "Charlie Rose" last month.
What about Social Security? Politically, of course, it's still a minefield. So lawmakers will probably only agree on changes that take effect after they leave office. And for all the disagreement over how to shore up the program's long-term shortfall, most everyone agrees that changes shouldn't affect current or near-retirees.
Consider an increase in the retirement age, as many have proposed. Currently the full retirement age is set at 67 for everyone born after 1959.
"You can start at the end of the decade so that no one over 55 is affected at all. My preference would be to start soon, but no question, politicians will opt not to start until late in the decade," said Maya MacGuineas, fiscal policy director at the New America Foundation.
So to meet the 3% target, lawmakers will have to raise more tax revenue and make most of their spending cuts from the one-third of the budget that covers defense and everything else the government does outside the entitlement programs.
And it's likely they won't put tough changes into effect immediately.
Judging from its public meetings, the president's bipartisan fiscal commission seems to have gotten the message that any near-term changes might threaten an already tepid economic recovery.
So it's entirely possible that any changes recommended to meet the 3% goal would take effect no earlier than 2015 itself. That would mean reducing spending and/or raising taxes to the tune of $240 billion in that year alone.
That is a tall order. It's the equivalent of 17% of all discretionary spending today (or 36% if you exclude defense). In terms of taxes, it's the equivalent of about 11% of revenue collected in 2010.
To put it in a different perspective, the biggest deficit-cutting venture that Congress approved in years was the health reform law enacted in March.
That law, which also includes some unrelated education provisions, will reduce the deficit by $143 billion over 10 years, CBO estimated. But only $20 billion will occur in 2015. (And not all budget experts are convinced all those savings will be realized.)
Keep in mind, too, Congress hasn't really taken up many of the proposals in Obama's budget. If policies in place continue without changes, it's very possible the deficit in 2015 could exceed 4.3% of GDP.
And that would mean lawmakers would need to come up with even more than $240 billion in 2015 to meet the president's target.