Hedge funds are back. Too bad for you.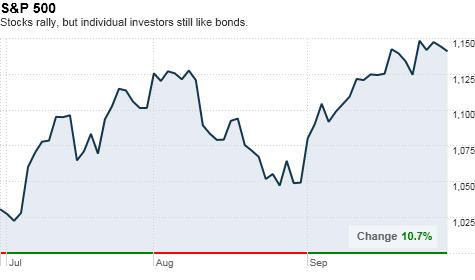 NEW YORK (CNNMoney.com) -- Individual investors are boycotting the stock market, while hedge funds have regained their swagger after wandering in the wilderness.
The S&P 500 rose over 10% in July, August and September. But individual investors, those who invest primarily through mutual funds, were net sellers of stocks during every week of the third quarter.
An estimated $42 billion flowed out of mutual funds that invest in U.S. stocks during the quarter, according to data from the Investment Company Institute.
There hasn't been as big of gain in the stock market in such a short period of time without net inflows into stock funds and equity exchange traded funds in a quarter century, research from LPL Financial showed Tuesday.
Jeffrey Kleintop, chief market strategist at LPL Financial, said individual investors have overcome some of their concerns about the shaky economy, but "they remain distrustful of the integrity of the U.S. stock market."
By contrast, investors allocated $19 billion of new capital to the hedge fund industry during the third quarter, according to Hedge Fund Research.
That marked the biggest jump since November 2007, bringing total assets invested in the hedge fund industry to $1.77 trillion, the group said.
Ken Heinz, president of Hedge Fund Research, said the increase marks a "significant milestone" for the industry, which suffered record losses during the financial crisis of 2008.
"We're at an inflection point where investors are beginning to become more tolerant of risk," Heinz said. "We had been at historically low levels for a long time. Only now are we starting to see investors start to take advantage of opportunities in the marketplace."
He said hedge funds have become "strategically diverse" since the crisis. The industry has also increased transparency around fee structures and become more accessible to a broader group of investors, said Heinz.
Despite the renewed flow of capital into hedge funds, which invest in an array of assets, including stocks, commodities and currencies; the average investor continues to boycott the U.S. stock market.
Kleintop said a whopping $53 billion has come out of mutual funds that invest in U.S. stocks since May 6, when a faulty trading algorithm caused the Dow Jones industrial average to plunge nearly 1,000 points before regaining its composure.
The market has recovered from that gut-wrenching event, now known as the Flash Crash, but many individual investors haven't.
"There are now concerns about the market structure itself," said Kleintop. "In a market that's driven by hedge funds and institutions, individual investors are concerned they can't win or that the market is rigged against them."
He said the recent gains in U.S. stocks have been driven mainly by large institutional funds, including pensions and insurance companies, as well as overseas investors.
However, individual investors are putting their money to work in other markets.
After hoarding cash during the financial crisis, many individual investors have been gravitating towards high-yield bonds and commodities such as gold, which has rallied to record highs.
In the third quarter, individual investors plowed nearly $89 billion into mutual funds that invest in bonds, according to the Investment Company Institute.
While bonds and gold are typically considered defensive investments, individual investors are looking for pockets of higher-yielding assets in these categories, according to Kleintop.
"Individual investors are willing to take some risk, but not in large cap U.S. stocks," he said.