Your smartphone will run your life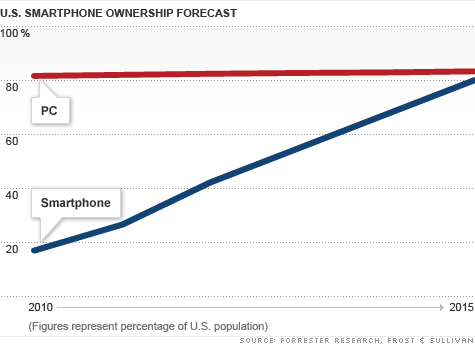 Editor's Note: This is part of a five-day CNN.com series about smartphones and their impact on our lives and culture.
NEW YORK (CNNMoney.com) -- Today, one in five Americans owns a smartphone -- but give it just a few more years and the gadgets will be ubiquitous.
By 2015, smartphone ownership will surpass 80% in the U.S., up from 17% of the population today, research firms Frost & Sullivan and Forrester Research estimate. Worldwide, 1 billion people will own smartphones in 2013, according to a forecast from Informa Telecoms & Media.
Smartphone sales are already outpacing those of PCs, Gartner's research shows, and a number of analysts predict that by the end of the decade they will be the primary point people use to stay connected.
"These devices are becoming the center of our lives," says Will Stofega, analyst at IDC. "Smartphones are bringing an immediacy and an availability of the Internet that has changed and transformed the way people access information. They're the first thing we pick up right after our car keys, and they're changing our behavior."
That new connectivity wave is reshaping the tech field. A boom in hyper-personal applications opens up huge growth opportunities for new business models -- and might wash out some of the industry's current giants.
If experts' predictions come true, the tech world could look quite different in the next five to 10 years.
A 'you' device
PCs and laptops can be shared among multiple family members or coworkers, but a smartphone is the one connected device that is truly yours. That makes it very, very personal.
Already, the typical smartphone user is downloading hundreds of applications to customize their device -- and stuffing it with personal data. Apps store passwords, health information, financial transactions, daily calendars, to-do lists and detailed e-mail trails, plus games and vast entertainment libraries of books, movies and music.
Analysts see phones becoming the remote controls for our digital lives. We'll still use PCs, iPods, laptops, tablets and many more devices -- get ready for the connected fridge -- but the phone will be the brain at the heart of each individual's gizmo galaxy.
"Every device out there is something that consumers will start interacting with and using to connect to the Web," says Dmitriy Molchanov, analyst at Yankee Group. "The smartphone is the device that will be at the hub of that connectivity."
Picture this scenario: When you leave for work, your smartphone will know -- based on the time of day and your location -- that you're ready to go on your commute. It knows the weather is expected to be snowy, so it will suggest alternate routes for your drive. It will have "talked" to your connected car, and will remind you that you need gas, then suggest which station on your route has the cheapest fuel. And if a friend is grabbing breakfast at a coffee shop on the way, your phone will let you know -- and maybe even give you a coupon for a doughnut.
Your PC can't do that.
Your digital stalker
Science fiction writers and tech marketers have been sketching out visions like that for decades. What's new is that we've hit a technology tipping point. The device needed to power that digital ecosystem is no longer theoretical, or a pricey prototype. It's in your pocket.
And it knows where you are, constantly. That's another watershed for the tech field.
No one knows quite how that technology will play out (or pay off), but everyone wants a foothold. Twitter and Facebook recently added location-aware capabilities, and venture capitalists are throwing cash at location-based services like Foursquare and Gowalla. Google (GOOG, Fortune 500), Yelp and Groupon are diving deep into the local advertising markets.
Where you are is now one of the most important -- and potentially lucrative -- aspects of your identity.
Reordering the tech field
The roster of gadgets orbiting your smartphone will fluctuate. We'll still use desktops, or something like them -- no office worker wants to do their daily computing on a tiny screen -- and a pile of other gadgets optimized for specific tasks. Dedicated shutterbugs won't want to trade in their digital cameras, and joggers will still want a tiny digital music player along on their morning run.
But devices have to jockey for position, and some will die off: Netbooks faded fast when tablets burst onto the scene. How gadgets integrate with your phone will play a big role in their evolution.
DVDs, USB memory sticks and even printers could be headed for extinction. You can already wirelessly stream movies from your iPhone and watch them on your Apple TV, and you can send what's on your desktop screen straight to your Android phone with a click of a button.
Which tech giants will rule that world? It may not be the ones who have held power for the past few decades.
Just like the iPhone helped launch Apple (AAPL, Fortune 500) from lovable underdog to the most-valuable tech company in the world, smartphones have revitalized companies like Motorola (MOT, Fortune 500), Samsung and HTC.
Verizon (VZ, Fortune 500), AT&T (T, Fortune 500), Sprint and other mobile networks also are gaining power. As the companies that keep us constantly (well, usually) connected, they're literally the backbone of our digital lives.
But as new blood enters, some of the slow-to-change old guard is getting left behind.
Microsoft (MSFT, Fortune 500), Intel (INTC, Fortune 500) and Dell (DELL, Fortune 500) have staked their reputations on the primacy of the PC. They're trailing way behind competitors that got into the mobile business sooner.
Hewlett-Packard (HPQ, Fortune 500) may be the savviest of the entrenched players. It's been reangling for years around the idea of "the connected you," despite its position as the world's largest PC maker. Its purchase of Palm earlier this year indicates that it sees the handwriting on the wall: Palm's fast-fading technology may not be a survivor, but like Apple, HP is committing to controlling both the hardware and software for its mobile gadgets.
"We are clearly in the early innings of the next major technology cycle," says Brent Iadarolla, global research director at Frost & Sullivan.
The shakeup is giving some industries a second crack at creating a sustainable online business model.
The music industry gave away songs for free on radio and blew its first shot at digital age with its mishandling of Napster. But it's finding some success with license-paying services like Pandora and Slacker Radio, which are surging along with smartphone use. And iTunes showed that 99 cents is a magic price point: Make legal purchasing cheap and easy, and most users won't bother with pirate tunes.
That's a ray of hope for both emerging startups and lumbering giants: So much will change in the coming decade that it's way too early to call the winners. We're in the primordial stage of the tech future smartphones are shaping.
"Lots of disruptions could happen," says IDC's Stofega. "The market's big enough not just to take newcomers, but also newer newcomers."