Treasury yields steady after Fed's Beige Book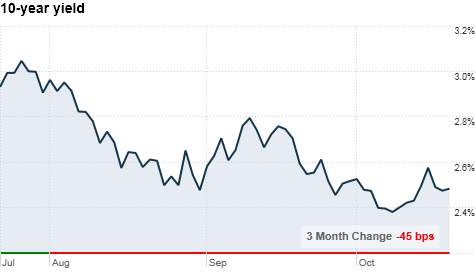 NEW YORK (CNNMoney.com) -- Treasury prices ended the session flat Wednesday as investors continued to anticipate action from the Federal Reserve to boost the struggling economy.
Yields for the benchmark 10-year note held steady at 2.48%. The 2-year and 5-year note yields were also unchanged, while the yield on the 30-year bond dipped slightly to 3.89% from 3.9% Tuesday.
"We've seen some big swings in recent weeks, so markets are pretty tired at this point," said Kim Rupert, Kim Rupert, a fixed income analyst with Action Economics. "With no new news to motivate either buyers or sellers, it looks like markets are on hold, waiting for something to come along and give them direction."
Treasury prices got a lift Tuesday, as China's surprise rate hike and mixed corporate news fueled investors' flight to safety within U.S. government debt -- triggering deep losses in the stock market.
Tony Rodriguez, head of fixed income at First American Funds, said he expects Treasury prices and yields will remain in a tight range, leading up to the Federal Reserve's policy meeting next month.
Investors have pushed Treasury yields lower in anticipation that the Fed will launch a second round of asset purchases -- or so-called quantitative easing -- in an effort to stimulate the economy at the conclusion of its two-day meeting Nov. 3.
The Federal Reserve's Beige Book, a snapshot of of regional economic conditions released Wednesday, further supported the speculation of Fed action, showing that the economy is continuing to sputter.
The Fed said consumers continue to be price-sensitive, inflation remains low and the outlook for the housing market is grim.
"The market has already priced in the Fed's engagement in quantitative easing," Rodriguez said. "But now it's just a question of whether investors will be satisfied with the size of the stimulus and its implementation."