For Ford and GM, less haggling on the lot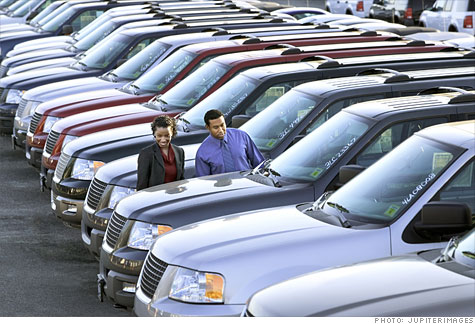 FORTUNE -- Detroit automakers have long been vexed by their loss of market share to Honda, Toyota and other foreign makers. Equally frustrating is the fact that American consumers have been willing to pay higher prices for so-called foreign cars.
But now the tables are turning, as pricing for General Motors and Ford (F, Fortune 500) is gaining strength, while it's getting worse for some Asian automakers.
Improved pricing for Detroit's products is due in part to the fact that they have narrowed the quality gap that once put them at a huge disadvantage to Honda (HMC) and Toyota (TM). GM's Chevrolet Malibu is a case in point -- a midsize sedan given high marks by reviewers.
GM and Ford also have more control over pricing because they're building fewer vehicles as part of their financial recovery, thus enabling them to maintain leaner inventories and minimize price-killing clearance sales. And Ford has increased unit sales and pricing as a result of what the company says is broader acceptance of their cars, as well as options such as the popular Sync phone and audio package.
Meanwhile, in an unusual twist for this industry, Asian carmakers have more or less held their ground in terms of market share, but they've had to discount more in order to close sales at dealerships.
Last month, for example, the average discount from retail on Ford cars was 15%, according to Edmunds.com, the automotive pricing website. Four years ago, the average discount was 19%. Toyota's average discount last month was 13%, up from 6.6% four years ago. In everyday terms, the turnabout means that the midsize Ford Fusion no longer sells at as big a discount to its Toyota counterpart, the Camry.
"The Asian brands, notably the Japanese, have been riding the Toyota-Honda wave for years. Those two brands, because of their sterling reputation, have long boosted the image of all other Japanese makes,'' said Art Spinella, an analyst for CNW Market Research in Bandon, Oregon. "But the deluge of Toyota recalls and quality issues initiated second thoughts among new-car shoppers.''
For a limited time only!
Until recently, Honda and Toyota normally didn't advertise large cash rebates for consumers, because they were getting enough customer traffic at dealers. Since getting people on the lot is half the battle, the automakers paid the cash through dealers to help close sales. Ford and GM, on the other hand, suffered from weak customer traffic and, although they didn't like discounting and tried to wean themselves from rebates and incentives, customers came to expect it.
Now, says Spinella, Honda and Toyota must lure customers back with more explicitly advertised discount offers, while GM and Ford continue to rein in discounts. Beyond the hit to revenue and profit, carmakers don't like discounting for another reason: they tend to cheapen brands.
Hyundai, a brand on the rise, has been the Asian automaker best able to gain market share and improve pricing. According to Edmunds.com, the South Korean manufacturer's average discount in September was 10.4% of retail, down from 12.7% a year ago. The company's Sonata midsize sedan has been in short supply due to its popularity and low price compared to U.S. and Japanese competition.
When third-quarter financial statements are released for GM and Ford in coming weeks they may well reflect soft unit sales as a result of the weak economic recovery -- but they'll also likely show a fundamental improvement in pricing, which could translate into stronger brands and financial results once the economy bounces back.