Earnings: So far, so very good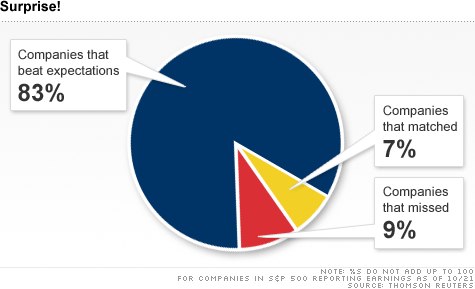 NEW YORK (CNNMoney.com) -- To paraphrase a classic line from "Seinfeld", earnings so far are real and they are spectacular.
Companies ranging from Dow components Caterpillar (CAT, Fortune 500) and McDonald's (MCD, Fortune 500) to regional banks BB&T (BBT, Fortune 500) and SunTrust (STI, Fortune 500) to transports UPS (UPS, Fortune 500), Southwest Airlines (LUV, Fortune 500) and Union Pacific (UNP, Fortune 500) all reported profits Thursday morning that beat forecasts.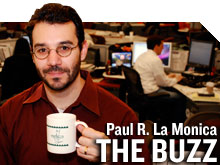 John Butters, director of U.S. earnings research with Thomson Reuters in Boston, said that so far during the third quarter there has been an "unusually high" number of companies topping estimates.
Through Thursday morning, 139 of the S&P 500 companies have reported results, and 83% of them have had earnings that were higher than analyst forecasts. Butters said that, on average, about 62% of companies beat estimates in a given quarter.
But what's even more impressive is that these companies -- like many others that have already reported results for the quarter that ended in September -- also notched year-over-year increases in sales as well.
That's key. One of the main criticisms of companies over the past year or so is that even though many were reporting decent profits, it was largely due to cost cutting and not actual improvement in demand.
According to Butters, the S&P 500 companies are expected to report revenue growth of about 7% from a year ago. Sales are also expected to rise from the second quarter.
Kate Warne, investment strategist with Edward Jones in St. Louis, said that she's encouraged by the fact that companies catering to both businesses and consumers are experiencing a pickup in sales.
"The revenue growth is across the board," she said. "Look at two companies that reported Thursday morning: Caterpillar and McDonald's. You have an industrial company and a consumer company and both beat expectations."
That bodes well for the outlook for the economy. If companies are finally getting more of a lift from real sales, it could be a sign that things are slowly but surely turning around. Of course, it's not that simple though.
Warne pointed out that the companies with more exposure to rapidly growing emerging markets are holding up better than those that rely mostly on the United States for sales and profits.
And Keith Springer, president of Springer Financial Advisors in Sacramento, Calif., noted that it's not just an increase in demand that's helping to boost sales and profits for large companies.
Springer said companies with strong balance sheets have been taking advantage of their healthy cash positions to make acquisitions that can further boost growth prospects.
"Big companies are picking up larger pieces of the market," Springer said. "The rich are getting richer. That's going to continue."
But Springer added that as long as the U.S. economy remains tepid, companies are unlikely to hire more workers. Many have already proven that they can earn big profits without needing to hire back staff.
"Earnings are going to be good and you will probably see the market continue to rally," he said. "But it's still going to be a jobless recovery."
- The opinions expressed in this commentary are solely those of Paul R. La Monica. Other than Time Warner, the parent of CNNMoney.com, and Abbott Laboratories, La Monica does not own positions in any individual stocks.