McDonald's stock soars to record high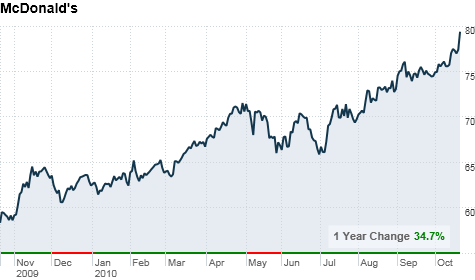 NEW YORK (CNNMoney.com) -- McDonald's Corp.'s third-quarter profit soared 10% to trounce expectations, and shareholders are lovin' it. The fast-food behemoth's stock continued to surge in record territory Thursday, nearing $80 a share.
McDonald's posted a net income of $1.4 billion, or $1.29 per share, for the three months ended Sept. 30, and revenue jumped 4% to $6.3 billion. Same-store sales, which measure sales at its stores open at least a year and are a key performance gauge, rose 6%.
The company's stock jumped 2.6% to an all-time high of $79.48 following the news. Shares of McDonald's have been climbing to new records day after day during last two months, and the stock is up more than 30% this year, leaving rivals Burger King and Wendys/Arbys Group Inc. (WEN) in the dust.
Despite the sluggish economy, Mickey D's been able to thrive by broadening its appeal and introducing new items to the menu, including the McCafe Frappes and Smoothies.
McDonald's CEO Jim Skinner said he is confident that the momentum will continue and expects same-store sales in October to increase between 5% and 6%.
Analysts polled by Thompson Reuters expect McDonald's will earn $4.9 billion in 2010, up more than 7% from net income of $4.6 billion in 2009.