What $1 million buys in a blighted neighborhood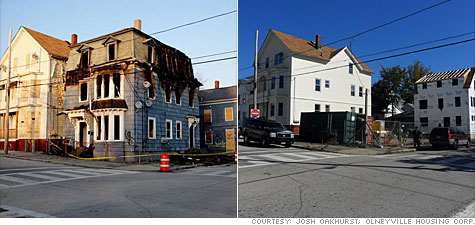 PROVIDENCE, R.I. (CNNMoney.com) -- Sitting on her front porch, Andrea Rollins can see what $1 million in federal funds is doing for her Rhode Island neighborhood.
On the corner, a torched, abandoned building has been knocked down, and the lot will become a yard for the adjacent house. The home next door to her is under renovation. The one just beyond is nearly ready for rental tenants. Both had sat empty for more than a year.
The turnaround underway in this Providence community is part of a $26 million effort to clean up Rhode Island areas blighted by the foreclosure crisis. The funds come from the $7 billion Neighborhood Stabilization Program that Congress set up to help states and municipalities buy abandoned properties and either demolish or fix them up. The homes can then be sold or rented to low- and moderate-income families.
"The whole neighborhood has been transformed by these changes," said Richard Godfrey, executive director of Rhode Island Housing, the state agency co-administering the program. "It's extremely visible."
In fact, the rehabilitation is what convinced Rollins, a mother of four, to rent a home on Hyat Street in Olneyville. Without the improvements, she would have been afraid to let her young daughter walk down the block to her elementary school.
"I wouldn't have wanted her walking by broken glass and abandoned buildings," said Rollins. "They would have brought rats."
Neighborhood stabilization funds are also being pumped into 11 other Rhode Island communities. The Ocean State is using its initial $19.6 million allotment to purchase and rehabilitate more than 100 foreclosed properties, according to Michael Tondra, chief of the Rhode Island Office of Housing and Community Development.
It is also allocating $2.2 million to assist about 100 would-be homeowners in acquiring a foreclosed house by paying up to 20% of the purchase price. The state has yet to allocate the remaining $6.3 million it was awarded last month.
To be sure, the program won't be able to turn around every foreclosed home in every distressed neighborhood. Even in Olneyville, $1 million is only enough to acquire 15% to 20% of the vacant properties.
Still, the federal money is making a difference in Rhode Island and cities and states around the nation, officials say. Chicago, for instance, is putting its $168 million to work in 28 neighborhoods. And Montgomery County, Ohio, is advertising open houses for its rehabbed homes on Twitter.
Decades of decay
Olneyville has been troubled for decades, and groups such as the Olneyville Housing Corp. have long worked build affordable homes in the one-mile-square neighborhood.
During the housing boom, speculators poured in, sending prices sky-high. One home on Putnam Street that had sold for $46,500 in 2000 resold for $310,000 six years later.
So when the crash came, it hit the neighborhood hard. When CNNMoney.com visited in January 2009 to assess the state of the economy, block after block had succumbed to foreclosure. Homes were boarded up. Glass littered the sidewalks. Vandals had broken in and stolen anything of value.
Later that year, the Putnam Street house was picked up in a foreclosure sale for a mere $25,000.
When the federal Neighborhood Stabilization Program was announced, Olneyville Housing's executive director, Frank Shea, saw it as an opportunity to scoop up the abandoned buildings. His strategy was to pick highly visible properties, particularly on corner lots, "to change the way people perceive the neighborhood," he said.
He selected the intersection of Hyat and Kossuth streets because the homes there were across from an elementary school. Shea wanted to make sure the hundreds of children who attended it had a safe route to and from class.
Though the homes are relatively cheap to acquire, it can cost several hundred thousand dollars to rehab them since most were extensively vandalized while they sat vacant.
An abandoned house on nearby Joselin Street was purchased in June 2009 for $45,000 -- a far cry from the $225,000 it sold for in 2005 -- but needed $210,000 worth of work to turn it into a habitable two-family rental property. Olneyville Housing had to replace the floors, walls, boilers, plumbing and appliances, as well as make other repairs.
The neighborhood stabilization funds are doing more than just fixing up buildings. The money is attracting other investments, both from government and private sources. Right now, $2.6 million in construction projects are currently underway in Olneyville.
Plus, it's providing jobs in a hard-hit area -- something many cities are desperate for.
The Hyat Street houses, for instance, are being resurrected by a program called YouthBuild, which puts low-income young adults to work constructing affordable housing, while earning their high school diplomas or GEDs. The funds are also employing scores of builders, carpenters, plumbers, electricians and others in the construction trades around the state.
"For a while it felt like a tide was washing over us," said Shea. "Now it feels like we're having the kind of impact we're supposed to be having."