Amazon sales jump 40%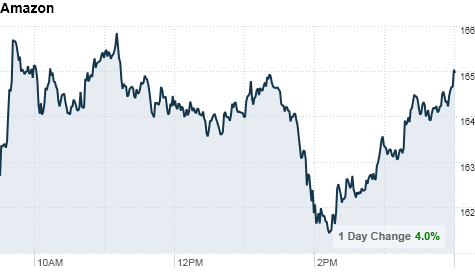 NEW YORK (CNNMoney.com) -- Amazon is still keeping mum about how many Kindles it has sold, but the online retailer's business boomed last quarter.
Amazon's sales rose 39% in the third quarter compared to last year, hitting $7.6 billion. Earnings also topped Wall Street's estimates, with net income of $231 million, up 16% from last year.
The Kindle 3 came out in June, and Amazon said the newest versions are the "fastest-selling Kindles of all time." Since the company refuses to disclose sales figures for its e-reader, that's a fairly vague bit of hype.
But the Kindle business is expanding fast, helped by the e-reader's recent price cuts, which brought the most basic version down to $139. Amazon has Kindle apps available now for a wide variety of devices -- including the iPhone, iPad as well as BlackBerry and Android phones -- and plans to soon launch a "Kindle Singles" marketplace for short, inexpensive content.
A conference call with analysts was short on details, with Amazon executives declining to break out sales figures for specific products. They also shrugged off an analyst's question about whether Amazon plans to compete with Hulu or Apple's iTunes on video streaming and downloads.
Amazon (AMZN, Fortune 500) shares rose 4% in regular trading, but lost almost all of those gains in the after-hours session. Investors balked at Amazon's forecast for fourth-quarter operating income, which it said might decline compared with last year.
Still, Amazon's stock is up almost 23% year-to-date. The online merchant has bucked the generally downbeat retail trend.
Also on Thursday, rival Barnes & Noble (BKS, Fortune 500) announced a press event to be held in New York City on Tuesday afternoon. The blog rumor mill went into overdrive, with many speculating that the gathering will focus on B&N's Nook e-reader.