Harvest time: The migrant economy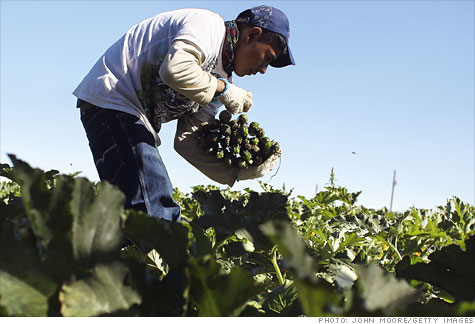 FORTUNE -- Global weather disruptions have boosted food prices this fall, but one thing that hasn't changed is the annual migration of workers to farms. Secretary of Agriculture Tom Vilsack says that between 50% and 60% of the food Americans eat has been handled by immigrants (legal or not). Here are some key facts about the migrant economy.
$10.82: The average hourly wage paid by farm operators in July, according to the National Agricultural Statistics Service. That's up 16¢ from a year ago.
1.4 million: The estimated number of crop workers in 2007. One-third of them were migrant workers (traveling at least 75 miles to a farm job).
74%: Approximate percentage of crop workers in America who were born in Mexico. More than half of all migrant workers are believed to be undocumented.