PayPal dives into mobile payments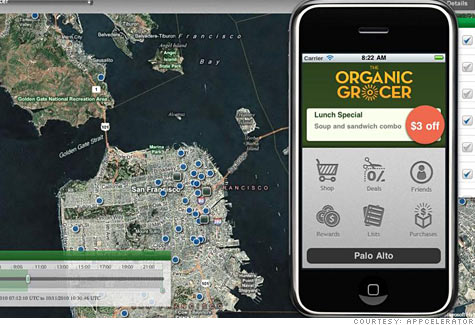 NEW YORK (CNNMoney.com) -- PayPal's online payment service is ramping up its focus on smartphones.
Right now, it's tough for mom-and-pop outfits to easily accept mobile payments. PayPal hopes to bridge that gap with a new project called "Titanium+Commerce," announced Tuesday at a company conference.
"It's a boon for merchants if they can forge tighter relationships before, during and after transactions with their customers," says Scott Schwarzhoff, vice president of marketing at Appcelerator, a development platform that is partnering with PayPal on the initiative.
Titanium+Commerce aims to go beyond simple payment processing by allowing merchants to design custom apps that will run across different mobile platforms, like Google's (GOOG, Fortune 500) Android and Apple's (AAPL, Fortune 500) iOS. From there, merchants can add their choice of capabilities, including purchases of real and virtual goods, online coupons, shopping lists, daily deals and more.
Titanium+Commerce launched in beta testing on Tuesday, and is scheduled to be available to PayPal's 8 million merchants in the first half of 2011.
Shoppers log in with their PayPal accounts, sparing them from keying in their credit-card information for each transaction. They will also be able to share deals with friends using PayPal's mobile services.
"It's easy for huge companies to put in a lot of manpower on mobile strategies," Schwarzhoff says. "We want to make it simple for the corner store to do the same thing."
Mobile payments taking off: That corner store may not have been interested in phone payments a few years ago, but the market is becoming a major piece of the shopping landscape. New York-based ABI Research expects mobile commerce to be a $110 billion field by 2015.
PayPal clearly wants to be a key player. In addition to partnering with Appcelerator, PayPal parent company eBay (EBAY, Fortune 500) joined in the $9 million funding round Appcelerator announced Tuesday.
PayPal also inked another mobile deal Tuesday with business-focused payment processor VeriFone, which is working to integrate PayPal into its PayWare mobile credit-card swiper.
But credit card companies don't want to be left in the cold. Visa (V, Fortune 500) and MasterCard (MA, Fortune 500) have made separate moves recently to court developers and help their customers make mobile payments.
Startups are also hoping to cash in. Newbies including Square, a hardware add-on that turns iPhones into credit card readers, and Venmo, a pay-by-text service, have raced off with head starts in mobile commerce.