Healthcare vs. banking in key Florida race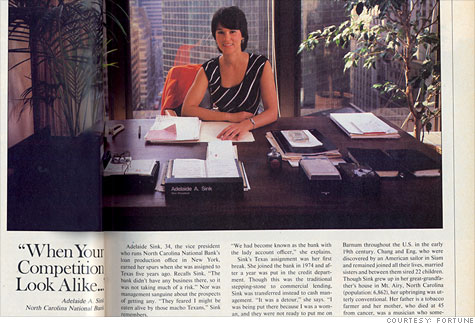 FORTUNE -- Democrat Alex Sink is locked in a nationally-watched, neck-and-neck contest to become Florida's next governor. But long before she entered the political arena, she got a vote of confidence for a very different career from a Wall Street legend.
Hugh McColl, who grew North Carolina National Bank into the behemoth Bank of America (BAC, Fortune 500), singled out Sink 28 years ago in the pages of Fortune as a rising star banker who could one day lead his institution. McColl's nod to Sink, who was at the time the 34-year old vice president of NCNB's loan production office in New York, has never been made public before now.
But he was the source, alluded to anonymously, for Sink's inclusion in a spread the magazine ran in its July 12, 1982 issue profiling the next generation of female standouts in financial services -- long before Fortune's annual "40 under 40" list debuted. Wyndham Robertson, the editor of the package and herself one of the first women in the magazine's upper ranks, revealed the back-story in an interview. "I asked Hugh if there were any women at his bank that had any shot of taking his job, anyone he could remotely imagine doing that," recalled Robertson, a native North Carolinian who had known McColl since college. "And he said, 'Alex Sink.'"
In the years that followed, McColl continued a buying spree that transformed the tiny regional bank into a banking empire stretching from coast to coast. It culminated in the 1998 purchase of Bank of America. By then, Sink had risen to head the bank's Florida division and was managing an earlier merger with Barnett Bank, Florida's oldest and largest bank. There were conflicting reports about her departure -- she took early retirement or was forced out in 2000 at age 52.
When Sink launched a bid for Florida's chief financial officer in 2006 as a relative political neophyte, her banking background helped give her the credibility to lift her above a Republican opponent endorsed by then-governor Jeb Bush. She's gotten mostly high marks for her performance, but the financial meltdown -- and the intense popular animus it spawned toward Wall Street -- has created new vulnerabilities for candidates with experience in the industry.
Finance experience haunts campaigns
New York Senator Kirsten Gillibrand criticized former Tennessee Rep. Harold Ford (D) for his work at Bank of America earlier this year when he was considering challenging her in a primary. He opted against it. In Ohio, Democratic Gov. Ted Strickland has attacked his Republican challenger, former Rep. John Kasich, for working as a managing director at Lehman Brothers until its 2008 collapse. And in Illinois, Democratic Senate candidate Alexi Giannoulias has had to fend off negative attention on his family business, Broadway Bank, where he was a federal loan officer before regulators shuttered it.
In the Florida governor's contest, Sink's business background and that of her Republican rival, former health-care executive Rick Scott, have taken center stage. Republicans laced into Sink for eliminating "thousands" of jobs during the Barnett Bank merger while collecting $8 million in bonus money. Sink has called the attack misleading, arguing most of the positions at the merged bank were eliminated through attrition and noting that her compensation during the time included lump-sum payments for her early retirement. And Scott's campaign has targeted Sink for $6.7 million in fines that NationsBank paid for misleading customers into investing in risky securities. Sink says she had no authority or control over those sales.
But Scott, who spent heavily from his personal fortune to win an upset victory in the primary over Florida Attorney General Bill McCollum, is toting heavy baggage from his tenure as CEO of Columbia/HCA, the hospital company. Like McColl, Scott started out young and aggressive, spending the first half of the 1990s rapidly building his startup Columbia Hospital Corp. into a giant for-profit hospital chain. By 1997, while Sink was busy with the Barnett merger, Scott was facing down a federal investigation into Medicare fraud that led to his ouster by his board and a record $1.7 billion fine. Scott was never personally charged with wrongdoing, but Sink's campaign has hammered him over it.
The charges and counter-charges about the candidates' respective private sector records were flying in Tampa on Tuesday night when Sink and Scott met for their final debate. Sink smiled as Scott invoked the NationsBank fine, and Scott snapped, "You think it's funny for these seniors? Your bank was sued and you paid fines. You want to talk about fraud?" Sink's sharp reply: "You can't lecture me about fraud."
Political observers say whatever drag Sink's banking history might be creating for her in this climate has been offset by Scott's own record. "In some ways it has struck voters as grasping at straws to criticize her background," says Daniel Smith, a political science professor at the University of Florida. Florida State University political scientist Robert Crew calls Scott's record "the issue in this campaign. It's essentially what people have to decide -- has he had enough of these problems that in effect disqualifies him from being governor."
Polls show the race remains a dead heat. For Democrats, the governorship is one of a trio in Sunbelt states -- along with California and Texas -- they hope to recapture from Republicans in an otherwise dismal year. But party leaders on both sides are watching the contest closely, in part because its outcome will determine who oversees the Congressional redistricting there, and whether their presidential nominee can expect a boost in the key swing state in 2012.
A "terrific advantage being a woman"
Sink's campaign would not make her available for this story, but spokesman Dan McLaughlin said the candidate recalled McColl's "great talent for understanding and mentoring younger folks who were perhaps not yet experienced enough, and putting them in an environment where they could advance."
In the Fortune story from 1982, Sink explained how that worked in her case: she was assigned, as a 29-year-old, to develop the bank's business in Texas, where it had none. "They feared I might be eaten alive by these macho Texans," she said, though she found being a woman actually worked to her benefit. "When your competition is walking in with three-piece suits and all look alike, it's a terrific advantage being a woman."
McColl -- who now runs an investment-banking firm called McColl Partners, and did not return requests for comment -- built a reputation for favoring former Marines in his hires. And Sink said in the story she had to wade through a "detour" assignment to the bank's cash management department, because the bank was not ready to put a woman "on the front line." But by 1981, Sink was heading the bank's six-person New York office, and pulling in $1 million in after-tax profits in that first year of operation.
Sink, Fortune noted, "has lots of Southern charm and some not-so-Southern roots" -- her great-grandfather was one half of the Siamese twins that P.T. Barnum made famous in the early 19th century. Chang and Eng Bunker spent their lives attached at the chest, settling in Mt. Airy, North Carolina to farm after their circus days. They married sisters and between them had 22 children. Sink grew up there in her great-grandfather Chang's house, in a childhood the magazine described otherwise as "utterly conventional."
If she wins her race, it'd be hard to describe the rest of her life the same way.