Ex-Citigroup chief says bankers behaving 'wildly'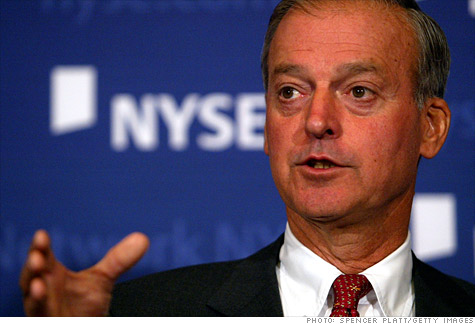 FORTUNE -- A decade after his ouster as co-CEO of Citigroup, John Reed has pretty much left capitalism behind -- and he takes a dim view of the titans who have run the place since. In a candid interview with Fortune for a feature profiling former business leaders, Reed explained why his rival Sandy Weill wasn't the "right guy" to run Citigroup, defended Eliot Spitzer's attacks on Wall Street, and said he finds it "amazing" that bankers haven't learned their lessons about risk.
Since completing a stint as interim CEO of the New York Stock Exchange, where he helped clean up the mess over Dick Grasso's $140 million pay (Reed himself received $1 for his service), the lifelong banker has also resigned all his seats on corporate boards to focus on non-profit work and an eclectic array of other ventures.
"I'd spent 35 years worrying about a penny a share. I just figured, 'why do any more of that?' Instead, I've spent a little of my time worrying about the world of ideas," he said. Among other roles, Reed, now 71, serves as chairman of the governing board at MIT, his alma mater.
Reed shakes his head at the catastrophe that befell the American financial system -- including his business alma mater, Citigroup (C, Fortune 500). After merging Citibank with Sandy Weill's Travelers Group (TRV, Fortune 500), Reed lost a power struggle with Weill and departed. Citigroup soon slipped into a long, downward spiral, culminating in its near-death experience in 2008.
Looking back, Reed now calls the merger (which he recommended) "a mistake." The combined business may simply have been too complex for anyone to manage, Reed concedes. But the real problem, in his view, is that it "clearly required superior management, and it did not receive that."
Indeed, Reed told Fortune that he tried to convince the newly formed Citigroup board that it should bring in a new CEO and both he and Weill should leave.
"After a lot of yack-yack, the board chose to leave Sandy in," says Reed. "I argued against that -- not because I disliked Sandy, but because I didn't think he was the right guy to run the combined entity. He did not, from my point of view, have the skills to run the big company that we had produced. He wasn't a process manager. He ran the place by people and personalities. The company was too big for that," Reed says.
Reed says he even came up with a list of CEO candidates -- and that former Weill deputy Jamie Dimon (also pushed out by Weill, only to go on to considerable success in recent years as CEO of JP Morgan Chase (JPM, Fortune 500)) -- "was certainly on the list."
In general, Reed blames the financial crisis on the abandonment of traditional banking values -- lending, maintaining adequate capital, and limiting leverage -- in favor of intermediation and trading. "You can make a ton of money in the market, but you usually have to give it back at some point," says Reed. "It's not a predictable income stream. I think making money from customers is a good business."
"The regulators missed it, but they always will. You can't assume, on average, that the regulators are going to be a lot smarter than the industry. No one in their right mind would bet their life on that proposition. In my experience, regulators became a part of the thinking of the industry."
Reed is the rare businessman who defends Eliot Spitzer's record regulating Wall Street as New York attorney general.
"He was right," declares Reed. "He was basically after customer-abusive behavior. First the analysts. Then the big mutual funds. Then the insurance companies that were getting kickbacks. There was a pattern there. It was all abusive. Spitzer saw that, and attacked that." (N.B. Spitzer was the subject of my recent book, Client 9.)
After Reed's 35 years in the banking business, he's not optimistic about regulators' ability to avert the next financial calamity -- or the industry's inclination to rein in its own behavior. "It's quite amazing," he says. "It's like having a near-death car experience and you get back in the car and you drive just as wildly as you did before."
In his post as chairman at MIT, Reed's involvement transcends the usual oversight role. He has put months into working up a new model for properly allocating the costs of running a big research university, with an aim of helping schools better manage themselves.
"University accounting is strange," says Reed. "They tend not to look at things the way the rest of the business world would."
Based in Boston, he's also collaborating on a couple of academic projects -- an economic and social history of Argentina (where he spent part of his childhood) and a treatise on the importance of social sciences knowledge (psychology, anthropology, and sociology) for professionals in business, medicine, law and government. He sits on the board of Boston's Gardner Museum and MDRC, a non-profit social-policy group. Compared with running a global banking institution, Reed finds it all quite manageable. Said he: "Bumming around is the way I describe it."