Motorola: Tech's comeback kid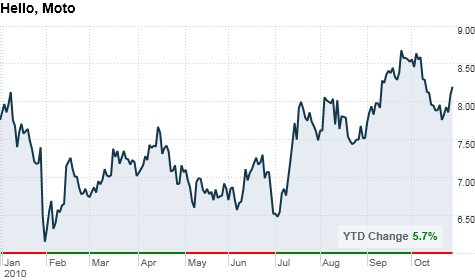 NEW YORK (CNNMoney.com) -- Motorola may be the Lazarus of the tech sector.
While companies like Research in Motion (RIMM), Nokia (NOK) and new HP (HPQ, Fortune 500) subsidiary Palm all struggle to keep pace with the juggernaut that is Apple's iPhone, Motorola (MOT, Fortune 500) has enjoyed a nice turnaround thanks to its Droid line of smartphones.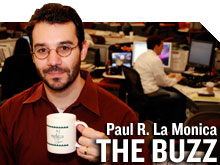 Consumers apparently love the Droid (particularly the Droid 2 and Droid X), and the proof is in Motorola's third-quarter results. The company reported profits Thursday that easily exceeded analysts' expectations.
But even more importantly, Motorola's sales -- including discontinued operations -- rose 6% from a year ago. While mid-single-digit sales growth isn't necessarily stellar, it's significant because this is the first quarter Motorola reported any growth on the top line in nearly four years.
The last time Motorola's sales were up on a year-over-year basis was the fourth quarter of 2006. So Motorola went an astonishing 14 quarters without any sales growth.
The company's mobile device unit led the way this quarter with a 20% jump in sales from last year. Mobile devices make up about a third of Motorola's total revenue. The division even eked out a small operating profit.
"They have been in turnaround mode for four years, and it's gotten so much more competitive in smartphones. You have to give them a lot of credit," said Todd Koffman, an analyst with Raymond James. "They are going up against the greatest company in the planet, in Apple." (Koffman owns the stock.)
Motorola's shares surged as much as 8% early Thursday morning before cooling off a bit.
But it's worth asking: Is this the best it's going to get for Motorola? Can the company's momentum continue?
One potential cause for concern is that Motorola, which sells its Droid phones through Verizon (VZ, Fortune 500), may soon find itself competing with Apple (AAPL, Fortune 500) for Verizon customers. It is widely expected that the iPhone, currently an A&T (T, Fortune 500) exclusive, will finally be available to Verizon customers sometime next year.
Mark McKechnie, an analyst at Gleacher & Co., said the iPhone fears are valid. But he thinks that Motorola's success shows that Google's (GOOG, Fortune 500) Android operating system is a legitimate competitor to Apple.
So there should still be room for Motorola to gain new customers -- as long as it remains firmly latched to the Android train.
"People think iPhone on Verizon is a disaster waiting to happen. It will have some impact in the first half of 2011, but it may turn out to be nothing more than a speed bump," he said.
Motorola has an opportunity to make up for any potential lost sales at Verizon by getting more of its phones sold through other carriers around the world, especially in Europe and Asia, Koffman added.
So what's this all mean for the stock?
Alkesh Shah, an analyst with Evercore Partners, said investors are already prepared for a possible sales hit from an eventual Verizon iPhone. He doubts that there is much more downside.
Investors, after all, don't like surprises -- and nobody will be surprised once Verizon and Apple make the iPhone news official.
"This has been something that has been talked about for the last year," Shah said.
Still, valuing Motorola these days is a bit of challenge. That's because Motorola is set to split into two separately traded companies early next year -- one that will house its smartphone and cable set-top box business and another for its wireless networking equipment unit and enterprise business, which sells two-way radios to police departments.
But McKechnie thinks shares still look attractive, prior to the coming schism. Once you factor out the company's net cash of about $5.6 billion, investors are valuing the core assets of Motorola at just a little more than 10 times 2011 earnings estimates, he noted.
That's fairly cheap -- especially for a company that finally seems to have its first legitimate big hit since the Razr.
- The opinions expressed in this commentary are solely those of Paul R. La Monica. Other than Time Warner, the parent of CNNMoney.com, and Abbott Laboratories, La Monica does not own positions in any individual stocks.