Australians swoop in on U.S. foreclosures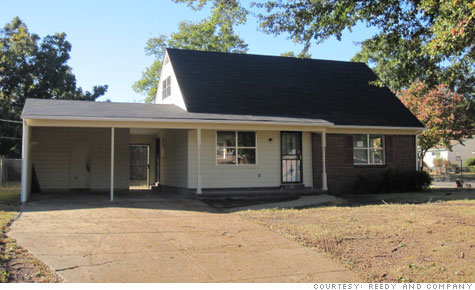 MEMPHIS, Tenn. (CNNMoney.com) -- On a recent Wednesday night, my wife and I found ourselves in an otherwise empty Beale Street bar surrounded by a group of Australian men.
"You guys from here?" they asked cheerily. "You like the area? What do you do for work?"
Despite the boozy surroundings, what could have been mistaken for friendly banter was actually research. The Australians were on a real estate tour of American cities, sussing them out before pulling the trigger on the latest trend in this hard-hit sector: snapping up foreclosed homes, renovating them, then renting them out.
"America represents an opportunity, and Australians have just jumped all over it," said Andrew Allan, founder of My USA Property, who was leading the tour.
Allan's firm, which has an office in Orlando, Fla., brokers deals between Australians and real estate professionals in the United States.
The real estate pros who find the foreclosed homes also fix them up and then manage them as rentals. The Australians provide the capital and -- hopefully -- collect the profits.
The properties come delivered with a clear title and a building inspector's report. The firm has arranged nearly 300 deals in the last two years in 14 U.S. cities, mostly in the Southeast and Midwest.
Allan, an Australian himself, owns eight properties in the United States. He hopes to have 30 within the next five years.
"The beauty is, the U.S. economy will recover one day," he said. "You guys have hit a rough patch, but we know you'll be back with flying colors."
It's all about natural resources. It's not just the hurting American economy that makes these deals so sweet. It's largely the complex interplay of the global economy.
The Australians are riding a commodity-driven export boom. China, workshop to the world, is gobbling up ever more metal and fossil fuel, much of which comes from Australia. Among Australia's top commodity exports are coal, iron ore and gold.
Unemployment in Australia is just 5.1%. Home prices, which did not fall, average $500,000. Plus, the Australian dollar is at near record highs, equal in value to its U.S. counterpart.
That means Australians have lots of cash. In many cases, Allan said his investors are taking out home equity loans to buy U.S. property. That may strike many as an all-too-familiar and risky proposition, but Allan believes it's safe. He says stricter banking regulations and a rising population will keep his country immune from a housing downturn.
A closer look at the deal. The deals themselves seem solid, at least on paper.
Jim Reedy, owner of the Memphis-based property management firm Reedy and Company, said a recent sale he put together for an Australian on a $68,000 house looked something like this:
With a $17,000 downpayment, the monthly costs for the buyer totaled about $700. That included the mortgage payment, insurance, management fee, taxes and setting aside 12% of the rent in an emergency fund to cover maintenance and vacancies.
Yet the house rents for $1,100 a month. So the buyer is making $400 a month, a 28% return on his $17,000 investment. And that's not counting any appreciation the home may see, or the currency advantage if the Australian buys now and the Aussie dollar falls in the future.
"'Our business is exploding," said Reedy, who buys foreclosed properties every day, literally right off the Memphis courthouse steps. He said the recent drop in foreclosures due to the robo-signing mess has crimped sales, but that he expects foreclosures to pick right back up again early next year.
Reedy is making money on both the home sale and the management fee. He pays somewhere between $20,000 and $30,000 for the home, then hires contractors to put another $10,000 to $15,000 worth of work into it. Then he charges 8% of the monthly rent to manage the property, find tenants and deal with any additional repairs.
Before this year, he said most people looking to buy these homes were Americans, sometimes referred to as vulture investors.
But now, about 30% of his clients are from overseas -- many from Australia, New Zealand and Singapore, and also some wealthy Europeans.

Nationwide phenomenon. This is happening in other parts of the country as well.
In Phoenix, where real estate prices are off 50% from their peak in 2002, broker and property manager Tanya Marchiol said she has helped Australians buy 16 properties in the last six weeks.
"It's crazy," she said. "They're scooping up tons of stuff."
She also says she seen lots of interest from people in Canada, another place where the economy is heavily pegged to commodities.
Sometimes the process involves evicting the occupants of the foreclosed homes. Some criticize this harsh reality as taking advantage of other people's misfortune. They argue it opens the market for foreclosed properties, giving banks an incentive to foreclose and not work with the homeowner.
But Allan and others in the business say it's simply the free market at work. In many cases, they say the people being foreclosed on never should have bought the place to begin with. The investors are keeping the home from falling into disrepair, and are helping put a floor under housing prices.
Not for the timid. Despite the rosy scenarios, the investments themselves are risky propositions. One financial planner strongly advised against it, unless it's just a small part of a portfolio or one can afford to buy dozens of homes.
"Otherwise, it's a crap shoot," said Jon Duncan of Seneschal Advisors. "I wouldn't touch it with a ten-foot pole."
But then again, the Aussies aren't exactly noted for being meek.
"Fortune favors the brave," said Max Billi, an Australian mortgage broker who just bought an Orlando condo, his first in the United States. "But I'm comfortable it's a safe bet."