How to buy a foreclosure in a robo-signing world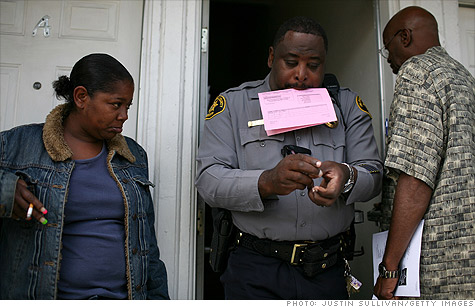 NEW YORK (CNNMoney.com) -- You want to buy a foreclosure? It has gotten a lot harder the past couple of weeks.
The fallout over "robo-signing" -- where bank executives sign off on foreclosure filings without reviewing the paperwork to make sure they're valid -- has led to a freeze on foreclosure sales, limiting the number of properties available.
In South Florida, for example, the inventory of repossessions -- also known as bank-owned properties -- for sale sank nearly 20% between late September and October 18, according to Peter Zalewski of Condo Vultures.
"The whole distressed property market is probably going quiet until the freeze ends," he said.
But, there are still bargains out there to be had for buyers who are willing to do some extra work.
"The safest and best way to buy is still when it's a bank-owned property," said Rick Sharga, a spokesman for RealtyTrac, the online marketer of foreclosure properties. "As long as there's a clear title and the buyer can get title insurance, it's a great time to buy."
In addition to bank-owned properties, there are two types of foreclosures you can buy: 1. pre-foreclosure; 2. sheriff's auction. All three are affected by concerns over the way foreclosures have been handled.
Pre-foreclosure: These homes are in the foreclosure process, but they have yet to be sent to auction. Owners are typically trying to unload them because they are "underwater," owing more on the homes than they are worth.
As a result, potential buyers must negotiate a deal with the lender as well as the owner. That makes buying complicated and slow. But, you have the advantage of being able to inspect the home before purchase -- which isn't the case at foreclosure auctions. Sharga warned, however, that prices are usually higher than at other stages of foreclosure.
Should you be afraid to buy? There are no special concerns over ownership rights of former owners. The sellers agree to the deal before it's a completed foreclosure, so buyers can purchase with confidence.
Sheriff's auction: These sales yield the lowest prices, but they are fraught with difficulties. Often the house is unavailable for inspection, leaving buyers with a long list of expensive repairs -- and much larger bill than they intended. This stage is usually best left to professionals, contractors and investors who regularly bid on these places and know what they're doing.
Should you be afraid to buy? The foreclosure freeze means that these sales are not taking place right now but the banks have already started to announce that they are planning to refile cleaned-up foreclosure affidavits and expect to resume auctions soon. Once they restart, the banks will have presumably cleaned up the paperwork, meaning these homes shouldn't have any paperwork problems.
Repossession: This occurs when the bank buys the property at a sheriff's auction, which usually happens when there are no other bidders. Homebuyers may not get the best bargains during this stage, but they can nearly always perform a thorough inspection before closing, minimizing costly surprises. Plus, the property normally comes with a clear title.
Should you be afraid to buy? The robo-signings have now muddied the issues of who actually owns the property, making these purchases more of a crap shoot. Buyers may be concerned that former owners could challenge the legality of the foreclosure process.
On the plus side, the banks often extend preferential financing terms to buyers and may have made some repairs before putting the property on the market.
Homes are still usually sold in "as is" condition. "That means the bank won't pay for cosmetic issues," said Adam Wiener, a spokesman for the Redfin, the online real estate marketer. "Although, they will often pay for some or all of repairs that are health and safety issues. That makes the home inspection even more critical."
The freeze on foreclosure auctions means that new REOs are not hitting the market, shrinking REO inventory. Some lenders have even pulled repossessed homes from the market to double check their paperwork and make sure they have clear title before they sell them.
Once it opens up again and you've decided which type of home to buy, there are several common mistakes foreclosure buyers should take care to avoid. These include:
Getting caught up in a bidding frenzy: The banks often under-price repossessions, hoping to generate excitement, attract multiple bids and sell them quickly. The problem is, as in any auction-type sale, bidders get excited and pay too much.
"Remember," said Sharga, "there are 800,000 REOs in the banks' inventories. There'll be another home to bid on tomorrow."
Underestimating repair costs: Take full advantage of the home inspection and don't delude yourself about much the repairs will cost.
"Take along someone who can give you a good estimate of how much repair costs will come to," said Sharga.
Redfin coaches its agents to warn buyers to factor in a cushion of 10% to 20% of the purchase price to pay for unexpected repairs. "If you end up not using it, go on vacation after 6 months," Wiener said.
Not knowing what comparable properties cost: This is important in any market but especially in this endeavor. In high foreclosure areas, prices can be eroding very quickly. You want to have the latest homes sale prices on repossessed properties and try to keep your bid comparable or lower.
Buying in a neighborhood flooded with foreclosures: This is most important for people buying for the short-term. Any neighborhood saturated with REOs and foreclosures may be headed for further price falls. If you're planning to relocate within a few years or buying a bigger house, that could mean selling at a loss. A better bet, if you can find it, is to buy the only foreclosed home in an otherwise stable community. That's more likely to hold its value.
Not having financing in place: If you don't have a pre-approved mortgage, you're really not in the market. "You have to be able to move quickly," Sharga said.
Banks don't want to dilly-dally on sales; they're losing money every day that homes sit on the market. That means they'll often jump on the highest bid with the best financing already in place.
Having a loan beforehand carries another advantage: It tells you how much credit you have available. You won't spend time shopping for homes that are too expensive.
Remember that pre-approved financing is different from pre-qualified financing; it means the loan is ready to go. Pre-qualified is more like an opinion of a loan officer and there's still work to be done before final approval.