Trade and Tea Party: Not exactly a happy couple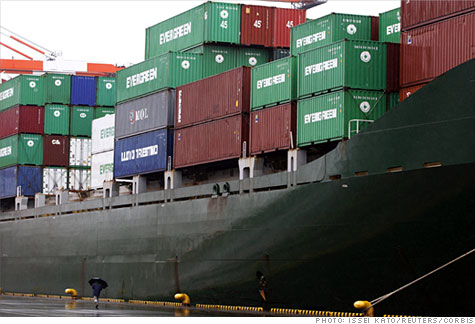 FORTUNE -- Big business interests are hopeful that a Republican takeover of the House -- now looking more likely than not -- will thaw free-trade deals that have languished since President Obama took office. Those agreements are on a short list of priorities the White House has in common with GOP leaders.
But a rising protectionist tide brought about by the sour economy is threatening to complicate the task. And business groups in Washington are already preparing for the possibility that a new Republican majority stocked with populists from Rust Belt districts and beyond will present a less receptive audience than they once anticipated.
"We're going to have our work cut out for us," says Christopher Wenk, the senior director of international policy at the U.S. Chamber of Commerce.
Even under the current Congress, Republicans have proven more inclined to register protectionist sentiment. That was on stark display in late September, when 99 Republicans joined 249 Democrats in approving a measure to strengthen the administration's hand in pushing the Chinese to let their currency rise.
It's unclear how an expected influx of Tea Party-affiliated Republicans will shake out on the issue next year. Leaders of some of the groups that have helped organize the movement -- Americans for Prosperity, for example -- are free-trade boosters.
But the Tea Party's grassroots members are more hostile to trade agreements than the broader population. A recent Wall Street Journal/NBC News poll found that 61% of those who identified themselves as supporters of the movement believe the deals have hurt the U.S., while 53% of all respondents held the same view.
Douglas Holtz-Eakin, an economist and former Congressional Budget Office director who advised Sen. John McCain during his presidential run, calls the issue a "wild card." Research from his consulting firm finds that Republican voters are more likely than Democratic voters to support new tariffs on Chinese imports to offset U.S. losses due to an undervalued Yuan. He says it's no longer taken for granted that Republicans embrace open trade and open international market, at the least at the voter level.
"The question is how will newly elected Republicans behave?" Holtz-Eakin says. "The leadership and think tanks in Washington may support free trade and open markets, but if you go out to real America, it's not there."
Indeed, House Republicans included a call for Congress to quickly approve trade deals with Colombia, Panama, and South Korea among the eight planks of their "No Cost Jobs Plan" earlier this year. And a senior House GOP aide says Republican leaders remain "extremely strong" proponents of free trade.
No united Republican front
Out on the trail, there is far less unanimity among Republican candidates. Ohioan Rob Portman, who served as President Bush's trade representative, is ahead in his Senate bid. But up in Wisconsin, Tea Party-backed Sean Duffy, favored in his House race, talks about the need for "fair trade." A recent survey cited by the newsletter Inside U.S. Trade found the "vast majority" of self-identified Tea Party candidates have yet to take a firm position on the matter. That review found that out of 129 competitive Tea Party candidates for the House, 86 have not made their stance known.
Lobbyists for big business are gearing up to make their case to scores of freshly minted lawmakers. "Campaigning is one thing and actually being a member of Congress is another," Wenk says. "But we're going to do aggressive outreach to them across the board. We're not taking anything for granted. These folks are going to have to hear from the business community and their constituents about why trade is important."
Obama has yet to submit a free trade agreement to Congress for approval. But White House negotiators have stepped up efforts with their Korean counterparts to work through remaining issues on that deal ahead of the Group of 20 meeting in Seoul later this month.
Business lobbyists hope the agreement could get the green light from Congress early next year, followed in short order by the Panama and Colombia deals. Not so fast, says Alan Tonelson of the U.S. Business and Industry Council, which lobbies for smaller American manufacturers. "All we can say with certainty," he said, "is that as long as the economy remains slumping and job creation remains so dismal, it's going to be very difficult for either party to push through more trade agreements of the type we've seen over the last ten years."