Did Steve Eisman unduly influence the Education Dept.?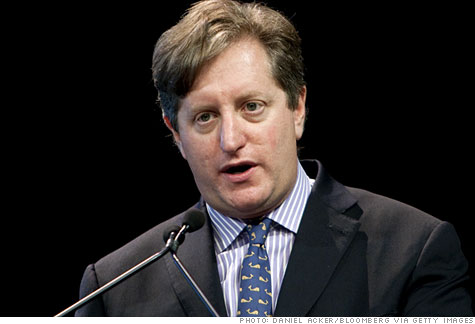 FORTUNE -- After the U.S. Department of Education initiated a crackdown on for-profit colleges last spring, the industry began looking into evidence that the DOE wasn't playing fair. It is now suggesting that the DOE was in bed with famed short-seller Steven Eisman and is calling for an inquiry by the Secretary of Education.
In the world of short-selling, timing is everything -- and that, according to the for-profits, is the issue. The timeline goes like this: On April 26, Fortune has learned and the DOE confirms, Eisman -- the contrarian star of Michael Lewis's The Big Short who made huge returns for his hedge fund by betting against subprime mortgages before the housing crash -- talked to two senior DOE staffers to discuss a speech Eisman was giving a few weeks later. The highly publicized speech at the Ira Sohn Investment Research Conference in Manhattan on May 26 was titled "Subprime Goes to College." In it, Eisman compared for-profit schools to the subprime mortgage industry and warned of $275 billion of defaults by students at for-profits over the next decade -- unless the DOE adopted new regulations. After his speech, shares of for-profit education companies ITT Educational Services (ESI) and Corinthian Colleges (COCO) each declined 3%.
A month later, in June, Eisman made the same remarks in testimony before the Senate education committee. The price of for-profit education stocks -- like Apollo Group (APOL) and Strayer Education (STRA) -- again declined. In an interview last month Eisman declined to say whether his short positions benefited from the price declines after the Sohn speech or Senate testimony. [For more on Eisman's short positions in for-profits and on a libel suit in which he was named a "co-conspirator," but not a defendant, by a Florida for-profit, read "Short-sellers get snagged in education litigation."]
The DOE's discussion with Eisman in April had involved two DOE officials: David Bergeron, an acting deputy assistant secretary for policy and budget, and Robert Shireman, at the time a deputy undersecretary and the key critic of for-profit abuses, who joined by phone. Shireman was in charge of the department's new regulations toughening how the for-profits conduct business. Most of those regulations -- bitterly contested over the summer -- became final yesterday and will go into effect next July. Teeing up the rules late last week, Secretary of Education Arne Duncan cited the for-profit industry's "rapid growth of enrollment, debt load, and default rates" as justifying federal intervention. Analysts say the regulations could significantly hurt the for-profits' business.
What Shireman and Bergeron heard from Eisman would become his stock presentation. In a series of slides titled "Subprime Goes to College," Eisman talked about the for-profits' operating margins, operating profits, executive compensation, and other matters -- all while arguing that for-profits don't deliver on job promises related to the career-oriented and vocational degrees they grant.
Two days after that discussion with Eisman, on April 28, Shireman delivered a speech in St. Paul at the annual meeting of state regulators in which he likened for-profit colleges to the financial institutions that took excessive risks and caused the 2008 meltdown. He twice mentioned "subprime," though his rebuke was less colorful than the one Eisman later offered at the Sohn conference and in congressional testimony. Though Shireman called out representatives of the for-profits he saw in his audience, his criticism was aimed less at them than the accreditors who oversee them.
The day after Shireman's speech, Career Education Corp (CECO). fell 12%, and Apollo Group 6%.
Bergeron, Shireman, and Eisman declined to comment. Eisman did say in an interview with Fortune last month that the DOE's proposed regulations had not come up at his meeting with the DOE in "any way, shape, or form."
Impropriety or business as usual?
The for-profits decry an allegiance they believe looks unseemly. Lanny Davis, a spokesman for the Coalition for Educational Success, which represents 78 for-profit educational institutions, told Fortune that the DOE should look into why the Eisman meeting with the DOE had not previously been disclosed.
"Appearances count," Davis said, "and when an investor meets with a senior official of a federal department -- in this case the No. 2 person -- shortly before the issuance of a regulation that clearly could affect the public markets, that has a bad appearance. The only way to clear up the bad appearance is full transparency -- meaning disclosing the fact you're meeting with the investor ahead of time and requiring the investor to fully explain the positions he holds."
A DOE spokesman said the Eisman meeting "was fully appropriate and violated no department or federal requirements," adding that "we do not see any appearance problem in meeting with as broad a range of people, viewpoints, and perspectives as possible." The spokesman also said that Shireman and Bergeron "provided no information or reaction to Mr. Eisman," other than to point out factual errors in one slide, and said that "department staff met with many people from various perspectives and backgrounds about the for-profit industry." The DOE says there are no records for its meetings on the regulations before those regulations were formally proposed.
In fighting the proposed DOE regulations, the for-profit industry has sought to portray a conspiracy of interests against it. A libel lawsuit in Florida is trying to make Eisman and various advocacy groups the villains in the raging economic and political battle between the for-profit education industry and the nonprofit sector. In that lawsuit, filed a few weeks ago, a privately held for-profit school called Keiser University is suing a competing nonprofit public institution, Florida State College, for spreading "injurious falsehoods" about Keiser. In its formal complaint, Keiser claims FSC and two of its administrators aimed to "derail" the for-profit education sector through a "false and misleading campaign." That campaign, according to the complaint, was executed in part through a "conspiracy" with both advocacy groups and short-sellers like Eisman.
Disclosure: Until January 2009, David A. Kaplan was a long-time employee at Newsweek, which until recently was owned by the Washington Post Co. He also was the editor of the Kaplan-Newsweek College Guide until 2008. A percentage of his retirement-plan holdings is in Washington Post stock, granted when he worked at Newsweek. The lucrative Kaplan education division of the Post Co. would be hurt by the DOE's regulations.