30-year yield jumps to 4% after Fed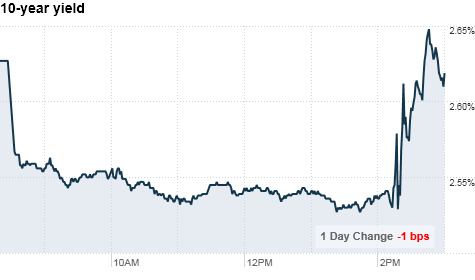 NEW YORK (CNNMoney.com) -- Long-term Treasury yields rose Wednesday after the Fed announced a huge bond-buying plan -- of mostly short-term Treasuries.
After slumping earlier in the session, the 30-year yield jumped to 4.06% from 3.93% on Tuesday. The yield on the benchmark 10-year rose to 2.62% from 2.55% Tuesday. Bond prices and yields move in opposite directions.
But most of the buying plans were concentrated in medium-term Treasuries, like 5-year and 7-year notes, leading investors to rush out of longer-dated securities. While 91% of the Fed's purchases will be Treasuries dated up to 10 years, only 6% were Treasuries with maturities of more than 10 years.
"People were expecting a much more spread out execution of both long- and short- term securities, instead of just short-term," said Michael Cheah, a bond fund manager at SunAmerica. "So the knee-jerk reaction to the fact that the Fed is not buying as much of the 10s and 30s is sell."
As longer-term yields surged, shorter term yields were down slightly but unchanged from earlier in the session. The 2-year yield was 0.33%, from 0.36% Tuesday, while the 5-year yield slipped to 1.12% from 1.15%.
In a policy statement issued Wednesday, the central bank said it will purchase $600 billion of Treasuries by the second quarter of 2011. It will also continue to reinvest an additional $250-300 billion with the proceeds of its earlier investments, bringing total purchases up to $900 billion.
About 3% of the Fed's purchases will be Treasury Inflation Protected Securities (TIPS), which are protected against consumer price inflation and pay additional principal when inflation rises.
In anticipation of a big Fed buying spree, investors had been doing some last-minute purchasing of Treasuries this week. With the Republicans' election triumph already priced in to the markets, prices moved higher Tuesday as well.
But now that the cat's out of the bag, investors are wondering how effective the Fed's plan will really be.
"The Fed's action is difficult to fathom," said Cheah. "It would have helped to buy longer-term securities because two ways to really affect the economy are to push mortgage rates down and longer-term borrowing rates down, and both rates are closely tied to the 10-year Treasury yield."
"Now that they've done whatever it is they've done, one has to ask the question, what are they really trying to do?"