Will the economy save Obama's job?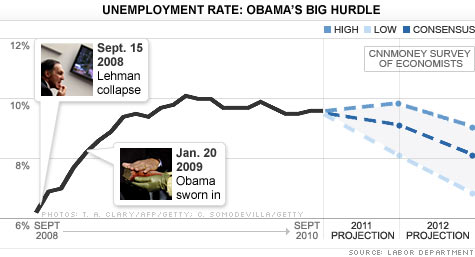 NEW YORK (CNNMoney.com) -- The economy was a Democrat's worst enemy in this year's midterm elections. Will President Obama face the same fate in 2012?
Political scientists say the direction of the economy is what colors an incumbent's re-election chances most. And even though sluggish growth is widely expected to continue next year, economists are generally forecasting better growth, and improvements in the job market in 2012. That could well be enough to save Obama's job.
"The next two years will be more important for [Obama's] prospects than the first half of his first term," said Douglas Hibbs, a retired professor at the University of Gothenburg who has studied the impact of the economy on voter choices over the last 60 years.
Unemployment currently stands at 9.6%, just a pinch below the 10.1% peak hit last October. Economists surveyed by CNNMoney.com expect unemployment will still be barely over 9% a year from now.

But the long-term outlook is rosier -- overall, they forecast unemployment to drop to about 8.1% on Election Day 2012, with some predicting it'll drop as low as 7% by then.
That kind of improvement could lift income enough to make Obama a winner, said Hibbs. His model to predict elections focuses on average growth rates in personal income rather than political polls. It has proven very accurate in elections since 1954. And he said gains in employment would almost certainly bring about the kind of significant gain in per capita income that could help the incumbent.
"If we get into a jobs recovery, the American economy is capable of extraordinary growth rates," Hibbs said.
Obama wouldn't be the first president to ride the improving job market wave. During the 1982 recession, unemployment peaked at 10.8%. A year later it fell to 8.5%, and by Election Day 1984, it was down to 7.4%, allowing Reagan to run his now-famous "Morning in America" commercials hyping a more optimistic outlook for the economy. The aggressive campaign was a success, and Reagan was re-elected in a landslide victory.
But the economy doesn't necessarily need to be strong to get the president re-elected, according to Mark Zandi, chief economist at Moody's Analytics. It just needs to improve enough to not be considered weak.
"Right now all incumbents are being hammered by the bad economy," said Zandi. "Two years from now, if we're at 8% unemployment, it'll be moving fast enough in the right direction to not be the major issue."
But while improvement in income and employment is important, other economic issues could impact the next election -- namely voters' view of their own net worth and the value of their homes, said Mark Peterson, a professor of public policy at UCLA.
"When people perceive the whole system is doing better, if we return to a period where housing is rebounding and foreclosures are down and there's a sense of turning a corner, that's the kind of thing that Reagan was able to tap into," said Peterson.
If the true test will be in the court of public opinion, the president could be facing an uphill battle, said Greg Valliere, chief political strategist for the Potomac Research Group. While economists proclaim a "recovery," real people are still hurting. If that doesn't change before November 2012, Obama could be in trouble.
"I'm not sure you can make the case in the next two years that the public will perceive a clear recovery," said Valliere.