Obama wants a do-over with business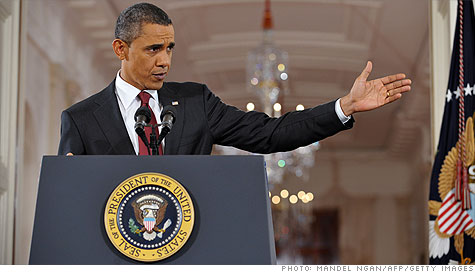 WASHINGTON (CNNMoney.com) -- One day after a "shellacking" in the congressional election, President Obama acknowledged Wednesday that he needs to improve his relations with business.
"As I reflect on what's happened over the last two years, it's one of the things that I think has not been managed by me as well as it needed to be," Obama said at a news conference following the Republican victory that put the House in GOP hands.
Obama laid out the litany of crises and White House policy pushes that cast the business community in a negative light, starting with the financial crisis, big bonuses, the health care debate and, most recently, the BP oil spill.
Obama said he wants to mend bridges more publicly with the business community while seeking policy initiatives that help create jobs.
He said he's been doing that "behind the scenes" in meetings between White House officials and corporate executives, but he acknowledged the need to work on the more public relationship.
IRS reporting rule: In the spirit of helping the business community, Obama announced that he would support a policy change to undo one piece of the new health care law that required businesses to notify the Internal Revenue Service of purchases over $600.
The idea behind the measure was to ensure that all income gets disclosed and help generate more tax dollars to help pay for the cost of the reforms. But small businesses had declared the new rule burdensome and Republicans call it a "job-killing" mandate.
Even some Democrats had proposed legislation easing the rule, but Wednesday's press conference marked the first time President Obama declared his support for such a rollback.
Behind the scenes: Obama also talked about his work on behalf of the business community pressing China to rejigger its currency exchange policy, which would help U.S. exports.
He said he had invited a "whole bunch of corporate executives" to join him when he attends the Group of 20 meetings in Asia later this month, "so that I can help them open up those markets and allow them to sell their products."
But Obama added that he needs to do more.
"I think setting the right tone publicly is going to be important and could end up making a difference at the margins in terms of how businesses make investment decisions," Obama said.