Bernanke: It's all about jobs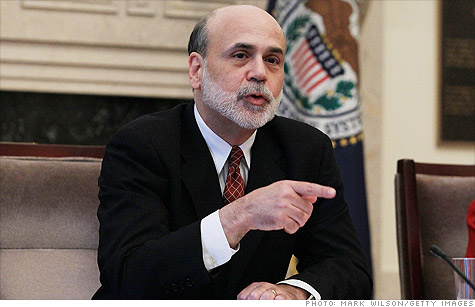 NEW YORK (CNNMoney.com) -- The Federal Reserve's latest move to help stimulate the economy should help fulfill its obligation "to help promote increased employment and sustain price stability," Fed chairman Ben Bernanke said.
On the heels of the Fed's announcement of $600 billion in Treasury purchases aimed at stimulating the economy -- a policy known as quantitative easing -- the Fed chairman explained the move in a op-ed piece published in Thursday's Washington Post.
Bernanke wrote that the Federal Reserve's objectives -- to promote a high level of employment and low, stable inflation -- had not been met.
On Wednesday, the central bank announced plans to buy long-term Treasuries over the next eight months and reinvest an additional $250 billion to $300 billion in Treasuries by mid-2011.
The national unemployment rate stands near 10% and inflation is "lower than the rate most Fed policymakers see as being most consistent with healthy economic growth," Bernanke wrote.
The Fed chairman noted that, in extreme cases, too low inflation can turn into deflation, a debilitating cycle of falling prices and demand.
Therefore, "The FOMC decided this week that, with unemployment high and inflation very low, further support to the economy is needed," Bernanke wrote
But critics of quantitative easing believe that too much monetary stimulus might lead to runaway inflation that could derail the economy, or future asset bubbles that could endanger economic stability over the long term.
Bernanke dismissed the criticism, saying earlier use of the policy didn't result in inflation and that the Fed is ready to act if prices start to rise.
"We have made all necessary preparations, and we are confident that we have the tools to unwind these policies at the appropriate time, " he added.
Stocks reacted well to the Fed's announcement, with the Dow Jones industrial average and Nasdaq composite reaching their highest levels in over two years.
"Higher stock prices will boost consumer wealth and help increase confidence, which can also spur spending. Increased spending will lead to higher incomes and profits that, in a virtuous circle, will further support economic expansion," Bernanke said in the Post.
Bernanke said the Fed will review the purchase program regularly to ensure it is working as intended and make adjustments when needed.