Cory Booker: Bringing Newark back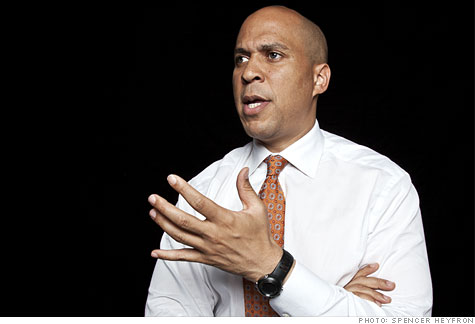 FORTUNE -- The world is urbanizing fast -- more than half the globe's people now live in cities. That fact makes the management of urban areas a critical challenge and mayors more important than ever. Few mayors are attracting as much attention as Newark's Cory Booker, leading a city with a 40-year reputation for blight, crime, and poverty. Already well known, Booker became far more famous in late September when he and Facebook co-founder Mark Zuckerberg appeared on Oprah Winfrey's TV show to announce Zuckerberg's $100 million pledge to Newark schools. Booker, 41, was reelected in May by a comfortable margin, having replaced a notoriously corrupt administration in 2006. He went to Stanford on a football scholarship, then studied history at Oxford as a Rhodes scholar and got a law degree at Yale. As mayor, he has reduced violent crime, his top priority; March was the city's first murder-free month in 44 years. Booker today has over a million followers on Twitter -- fewer than Lady Gaga but more than the Dalai Lama. He talked recently with Fortune's Geoff Colvin about teachers unions, rebranding Newark, and much else. Edited excerpts:
You first met Mark Zuckerberg in July. Eleven weeks later you two guys are on Oprah announcing that he's pledging $100 million for Newark schools. How did you do it?
I don't think it was me. The two of us were coming to the same conclusion at the same time, and we met at the right time. He had been thinking about making a major move in philanthropy for more than a year and wanted to get out there quick on the issue that's most important to him, which is education. We had concluded that if we were going to drive the level and scale of reforms that we envisioned, we were going to need some kind of attention-grabbing measure, as well as a shot of resources into the right places. We felt it could make dramatic change. So it was two men with the same idea meeting up.
Now you're going to have a lot of money for use in the Newark schools, but Newark already spends more money per student than most school systems in America, with worse results. How will you redesign the system to make this money effective?
That's a really important point to highlight in bold with a couple of exclamation points. Money in America has never been in line with performance -- our national spending on education is going up, but our performance has been stagnant. What's needed is not pouring new wine into old skins; it's to change the package altogether. We, the donor and I, have some very firm ideas. We recognize that in America we've all receded from our involvement in education. There is not the kind of engagement around educational issues that we want. We think we should pack our kids' lunch, send them off, and they should be returned to us scholars. That's just not the case anymore. We've created this convenient game of pass the buck, where parents are right to complain about the schools, the principals are right, maybe, to say they can't fire bad teachers, and teachers are right to say our kids are often showing up nutritionally and materially unfit to learn. The more we're able to say, "It's not my fault," the more we keep this descending cycle of mediocrity at best, and that's what we're trying to break with our resources.
So how do you break the cycle?
We're going to start with the most robust community-engagement effort the country has seen, engaging tens of thousands of residents. We're probably going to be carrying around pledge forms that we want parents and others to sign that say, What are you willing to do that is different this year so we can move our education system forward? We want everybody to be invited to the table to offer their voice and define what the community standards are for Newark and our nation. We think that's going to be a powerful process that's going to create a foundation for radical reform.
Once people understand that our principals' contracts call for 28 or 29 hours of work per week, or how impossible it is to fire a bad teacher, or that you have charter schools remaining open despite failing year after year after year -- once people realize what's going on, a lot of change becomes very obvious. I hate to tell you this -- it's actually not as complicated as people often make American education out to be. We all know the good schools and many of the qualities in them, and we know the failing schools and the things we want to avoid.
You have them both in Newark. You've got Central High School, where the results are awful, and you've got the Robert Treat Academy Charter School, which is producing spectacular results. How can you get more of the latter?
We've got to expand those islands of excellence, whether it's a magnet school, a charter school -- what have you. For the other schools, there has to be accountability: clear standards, ways of measuring progress to the standards, and most important, consequences for failure. That's the challenge in American education and government in general -- businesses have consequences for failure, but the government doesn't, often. You can fail time and again, and often you can get more money as you fail.
The Newark Teachers Union supported your main opponent in the recent election. To what extent can it impede what you want to do?
They have a lot of power to undermine reform or to be partners in reform. We have high expectations. We're inviting them to the table during this community-organizing process. Teachers unions aren't monolithic organizations. In some cities you see very progressive teachers unions that are embracing reform and accountability, and then you also see scores of sclerotic teachers unions that are gumming up the system and preventing reform. I'm hoping we're going to have a robust partnership that's going to be progressive and not tolerate a child's failure, a teacher's failure, a school's failure, or anyone's.
You've said your No. 1 priority is crime, and you've made a lot of progress. Violent crime has come down considerably. Total homicides are up a little this year vs. last year, which was down from previous years. After four years, what has worked and what has not?
If you walked into our police department, whether you're a criminologist or not, you could have immediately seen problems. It looked like scenes from a sitcom like Barney Miller -- guys were working on typewriters, buildings were old and decaying, places with the stench of urine. We weren't affording these great police officers the pride of place. We had nonsensical things. By union agreements, detectives in the gang task force were working Monday through Friday, nine to five.
Well, gangs don't work Monday through Friday, nine to five, at least not in our city. It's all about leadership. We found a great police director [Garry McCarthy] who had experience in the New York City system and who implemented a lot of strategies that were very effective. We really leveraged private support in a dramatic way -- for example, in posting cameras and the most lucrative tip lines in the country. Then we looked beyond the police department, because there's a massive problem in America with taking human potential, warehousing it in prisons, and then, when people come out of prison, that's one of our biggest sources of criminals.
They get out, come back to Newark, and go back to committing crimes.
I've come to realize that most of us human beings are far more rational economic actors than we care to think about. Imagine if you come out of prison. You have thousands of dollars of child-support arrears and an angry mother of your child who urgently needs help. You have thousands of dollars of parking tickets and your driver's license is suspended, so you can't drive legally. You have immediate needs of food. You have challenges with housing. Now get a job. You might not have attained high levels of education, and you now have a criminal conviction. In this economy employers have choices. So you're probably going to make a rational economic decision that you need to get back into the narcotics trade quickly so you can feed yourself and your family and so forth.
So you've done something quite innovative, which is to establish the Office of Reentry.
We decided we're going to experiment and be entrepreneurial, something government often is not. We started the Office of Reentry in partnership with a right-leaning organization, the Manhattan Institute. These left-right coalitions are very important to me. We also created the first-in-the-nation pro bono legal service project for ex-offenders, fueled by private law firms. Now when I get out of prison, if I have warrants out for my arrest, trouble getting a driver's license, I can get a group of lawyers to work with me. We created the first fatherhood center in New Jersey for guys coming out of prison who are dads. We organized sort of a fraternity and called it Delta Alpha Delta Sigma (DADS) to support our men in reducing their recidivism, but really connecting to their families because the children most likely to go to prison in America are children of incarcerated adults. The Office of Reentry has about a 10% recidivism rate, compared with the 65% state and national average. Our fatherhood program has about a 3% recidivism rate. We've created all these pockets of excellence that are really working, and we're trying to show that this should be a policy shift in America, to doing more to empower people when they come home. It'll drive down overall costs of government and create more economic energy in cities and states and nations, because suddenly you're unleashing the economic potential of large populations of Americans.
You said from the beginning that you want to attract corporate investment to the city. That has not been easy, especially with a long recession. What has been the key to succeeding?
This is the beauty of Newark. We have a tremendous competitive advantage. [Harvard professor] Michael Porter seeded my thoughts in the late '90s by telling me Newark is one of the most underachieving cities in America because it has so much competitive advantage it hasn't leveraged. We've got one of the nation's largest ports. We've got the largest transportation superstructure, if you add the airport and the rail lines and the highways intersecting here. We're the largest college town in New Jersey and have cultural institutions that are attracting millions of people. We realized that we had a branding problem in Newark. We saw we could get some easy wins if we just started thinking of ways to brand our city, plus deal with the real issues of crime and others, and that's worked very well.
We realized that tax incentives are critical. Capital is much more mobile than it ever was. I have friends with hedge funds who are moving down to Florida, and corporations are moving down South. So we worked with the previous governor's [Jon Corzine's] administration to make serious changes in tax law and give substantial incentives to come to Newark. We've finally broken through in the past year. We have a building boom in my city because we have dollar-for-dollar tax credits, so you almost get free building in the city. Even in this bad economy we're seeing the benefit as companies are choosing Newark. Pitney Bowes has just built big facilities here, tech companies like Audible.com, banking companies like Standard Chartered Bank have opened up offices in our city. We're seeing significant creation of jobs.
Lots of people would like to know how you rebranded. It's still called Newark, right?
It is. But rebranding takes a while, and you have to constantly pound the message in. We took on, in some very celebrated ways, people who were dissing our city. There was an ESPN commentator who said, "There's a marina in Newark. It's so phenomenal, but hold on to your wallet when you leave." We called him right to the mat and said, Look at the crime statistics: Newark is safer than Orlando, safer than Philadelphia.
You've been approached over the years about running for the Senate, running for lieutenant governor of New Jersey, and taking a job in the Obama administration, all of which you declined. You said a few months ago that you would not run for a third term as mayor. Is that still your intention?
No. I was asked that by an editorialist when I was very tired, feeling very beat up one day. Look, I'm in the sweet spot. The great thing about Newark right now is we are doing things that are impacting our community as well as having an impact beyond. I really feel like, at this time in my life, there's no better place to be than doing what I'm doing right now. We're taking on the problems people say are impossible to solve, and we're showing that you can create hope and do the improbable, maybe even the impossible. I just got reelected. I've got about 1,304 days left in this term. Not that I'm counting. And I think the future will take care of itself. If you do the best you can where you are, you'll always have choices, and that's been a blessing for me.
What's the most important thing you've learned as mayor?
The personal lessons are the most valuable. I've learned my fallibilities in a deeper way. You're confronted with your own imperfections in a much more powerful way, but within that weakness you discover a greater strength. There's so much cynicism and skepticism, but the strength I've discovered is that there are so many good people yearning to be a part of something bigger and bolder than our immediate concerns. When you are weak or tired, there's somebody who's going to pick you up. There's a wonderful saying by a great leader in Israel. Golda Meir once said, "Jews together are strong, but Jews with other people are invincible." I've learned that I, alone, am strong. I'm a strong guy. But when I join with other people, I feel that we're manifesting some invincibility. To me, it's this fundamental American lesson.
The C-Suite series: This is the latest interview with top executives by Fortune senior editor-at-large Geoff Colvin. Watch video excerpts of this interview at fortune.com/csuite -- plus find other Colvin interviews, including those with Charles Schwab, the team of Jeff Immelt (General Electric) and A.G. Lafley (Procter & Gamble), New York City school chancellor Joel Klein, Pimco's Mohamed El-Erian, Ernst & Young CEO Jim Turley, and many more.