Stores strong ahead of the holidays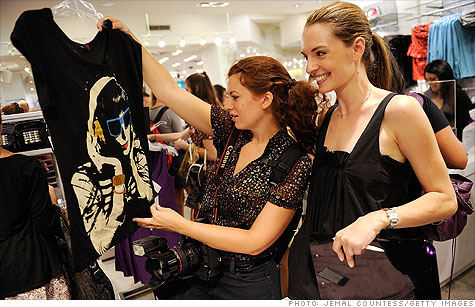 NEW YORK (CNNMoney.com) -- Retailers reported strong sales results for October on Thursday despite the still-struggling economy.
Consumers still showed a preference for discounts, with stores such as Costco (COST, Fortune 500) surpassing expectations.
Thomson Reuters, which tracks same-store sales for a group of 28 national chains, said total sales for the group rose 1.6% in October -- in line with its initial forecast for the month. Sales were up 2.8% in September.
An important gauge of a retailer's health, same-store sales measure sales at stores that have been open for at least a year. They have been on the rise for 13 months in a row, according to Thomson Reuters.
Jharonne Martis, a Thomson Reuters analyst, said October tends to be a slow month for consumer spending because it's the time when shoppers can take a break between the back-to-school and holiday seasons.
Although same-store sales last month were slightly below the year-earlier period, which notched a 1.8% gain, Martis said Thomson Reuters is anticipating an improved holiday season. Sales are expected to improve 1.8% in the fourth quarter.
Luxury in, teen apparel out
Warehouse club Costco said same-store sales rose greater than expectations in October, up 5% excluding gasoline sales and foreign currency considerations. BJ's Wholesale (BJ, Fortune 500) was also up 2.2% excluding gasoline sales, narrowly beating estimates of a 2.1% rise.
Other discount stores showed a mixed picture with Target (TGT, Fortune 500) up 1.7%, but JC Penney (JCP, Fortune 500) sales dipped 1.9% and Kohl's (KSS, Fortune 500) sales dropped 2.5%.
Limited Brands (LTD, Fortune 500), the parent company of Victoria's Secret and other intimate apparel stores, reported a 9% increase, surpassing expectations of a 6.3% rise.
Gap (GPS, Fortune 500) posted a 2% gain in sales, much better than the 2.5% decline expected.
Teen apparel retailer Wet Seal (WTSLA) reported a small decline of 0.7%, beating the forecast for a 3.7% drop. Sales at Abercrombie & Fitch (ANF) edged up 2% but were below expectations for a 5.6% rise.
"Unseasonably warm weather again in October was a drag on fall apparel demand," noted Michael Niemira, chief economist with the International Council of Shopping Centers (ICSC).
Competitors Hot Topic (HOTT), American Eagle (AEO) and Aeropostale (ARO) also posted declines in October same-store sales, while stand-out Zumiez (ZUMZ) surged 21.5%.
Meanwhile, luxury retailers Saks (SKS) and Nordstrom (JWN, Fortune 500) reported sales that were stronger than expected.
Saks said same-store sales jumped 8.1%, beating expectations of a 2% rise, while Nordstrom posted a 3.4% gain.