Just in time for holidays: Bigger paychecks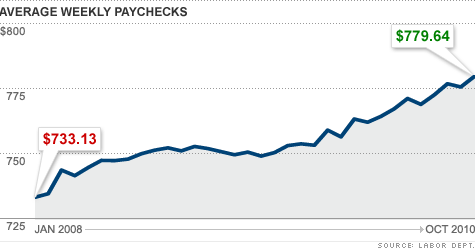 NEW YORK (CNNMoney.com) -- The number of new jobs in the government's October employment report was good news. But the improvement in wages might be even better news.
That's because getting more money into consumers' pockets is the key to getting the economy moving again.
Part of that improvement will come from the gain in 151,000 jobs in the October report, led by the best hiring by businesses in six months. But a bigger economic impact may come from the extra wages spread across the 90% of workers who already had jobs.
Average weekly wages improved by the biggest percentage in October than at any time since the start of the Great Recession -- up 3.5% compared to a year ago.
That's not because of an improvement in hourly wages. In fact, hourly wages made only modest gains -- 1.7% from a year ago. It's still a buyer's market for employers, and with their choice of job applicants desperate for work, they aren't under any pressure to raise wages.
But with increases in the number of hours worked, workers still came out on top. Average hours were up 1.8%, the biggest year-over-year gain in hours in 26 years.
Employees whose hours had been cut were returning to full-time status in October, as the number of workers stuck in part-time jobs when they wanted full-time work plunged by 318,000 in the month.
That's a good sign for the future, since employers are more likely to ramp up the hours of their part-time workers before they start hiring new employees.
"Businesses are saying they need more help, but they're not willing to commit to more workers yet, so they're adding hours, adding temporary employees," said economist Jay Bryson of Wells Fargo Securities. "That's good, since it generally means more full-time hiring comes next."
Private companies added 159,000 jobs in October, leading to a stronger-than-expected overall gain. It was the best gain in business hiring in six months. Still, economists say even stronger business hiring is necessary to bring down the unemployment rate from the stubbornly high reading of 9.6%.
But the most important effect of the extra hours isn't as a signal of hiring to come. It's the fact the extra hours means more money in paychecks, which will hopefully lead to more spending and economic growth ahead.
"All these things -- the longer hours, the pick-up in hiring -- they're going to give a nice kick to income and that's very good for spending," said Robert Brusca of FAO Economics. "That's the way things will get better."
While economists caution that one strong employment report is not enough to declare a job market rebound, they said the gains shouldn't be discounted.
The October report might eventually be looked upon as a turning point for the economy, said Sung Won Sohn, economics professor at Cal State University Channel Islands. The timing of the income gains, right before the start of the holiday shopping season, could also be a key, he said.
"If we can have a decent holiday shopping season, we can feel more comfortable about the economy and employment, and everything will come together," said Sohn. "We have already seen some uptick in retail sales. Retailers are feeling a bit more optimistic about the upcoming holiday season. That's one reason they added 28,000 workers in the month."
The other good news behind the headline numbers were the revisions to previous months' reports, which showed the labor market wasn't quite as weak as previously thought.
The revisions added a total of 110,000 jobs to last month's readings for August and September. That's on top of revisions from the previous two months that added 108,000 jobs above earlier readings.
"Things aren't going gangbusters relative to what the economy needs. But there are positive things going on there," said Brusca. "I think the bottom line is that it looks better."