Dell CFO: Going private still an option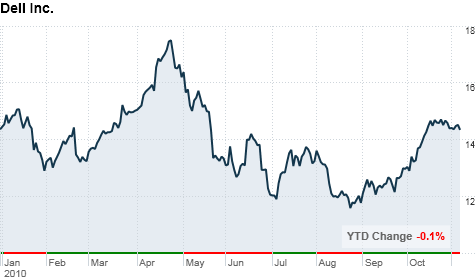 NEW YORK (CNNMoney.com) -- Once the top personal computer maker, Dell has fallen behind some of its chief rivals and gradually has lost much of the luster that it had a decade ago.
Now, Dell is attempting to re-brand its business as a solutions provider for corporations, but the transition hasn't been easy. It has made some big acquisitions, lost out on some others, and the stock has been up and down.
CNNMoney.com spoke with Dell's Chief Financial Officer Brian Gladden Friday about some of the challenges facing the PC giant. Here's what he had to say.
Q: Dell recently lost out to Hewlett-Packard in your bid for 3Par. Did that hurt your ability to compete in high-end storage and cloud solutions?
A: 3Par is a great asset with a new approach to storage. But there are clearly other options and still some interesting assets out there. For instance, we just acquired Boomi, which is a software as a service company.
The issue is that there's high demand in this space and a bit of a scarcity factor out there. After 3Par, all of those other assets are going to sell at high multiples, so we'll have to be pretty darned patient. Every board is using 3Par as a starting point, and their expectation is that their valuation will be at an all-time high.
With 3Par, we knew HP was in there, but we were very surprised by how much each of their bids went up. We did an exclusive deal, and we negotiated a matching and a breakup fee, so we thought we had the battle won. Internally, we justified a high purchase price and said we would go to that level, and that's what we did. HP just was willing to pay more than we were. Honestly, I wouldn't do a whole lot differently if we had to do it again.
But there are also a few ways for us to skin that cat. For instance, we have a great relationship with EMC (EMC, Fortune 500). We're talking to them about restructuring that relationship so it's even more positive for the both of us.
Q: There's a lot of talk about a hardware and PC refresh for businesses, but consumer growth will come from mobile devices. How is the company positioning itself to take advantage of that?
A: Dell (DELL, Fortune 500) is a company in transformation. We're investing more in enterprise business solutions, which is now a $17 billion business for us. The explosive growth in online video, virtualization and the move to the cloud is driving a huge need for storage capacity. Our server sales are up, and the bulk of our acquisitions will be in those areas.
At the same time, we have a large PC business, which is still where 50% of our revenue comes from. About 80% of that is business customers. So we're well positioned to take advantage of that refresh.
Consumers are still important. The entire PC market is 50% consumer, so that's a potential growth area for us. We had long resisted getting into the retail business, but that's now a $6 billion business. We'll have multiple smartphones and tablet devices. But that also doesn't mean we're going to attack HP (HPQ, Fortune 500) in the consumer business. That's not our primary focus.
Q: There has been some talk that Michael Dell would take the company private. Is there any truth to that rumor?
A: We spend a whole lot of time thinking about this. There are many options for us, and we have lots of cash on hand. We talk about everything from keeping everything the same, to doing a bigger and broader buy back while still keeping the company public, all the way to doing a leveraged buyout and taking the company private with [CEO] Michael [Dell] as the primary shareholder.
Every option has its plusses and minuses. The key element of taking the company private is that our cash will be tied up in the deal. It would be hard to complete our transformation if that were the case. If the company were strategically where we wanted it, however, then we're having a different conversation.
This all started when a shareholder asked Michael about this, and he said that we're looking into it. Well, of course we're looking into it. We always explore all of our options, and we'll discuss it again in December when we meet with the board.
After Michael talked about it, it got a lot of ink in the press, and 26 banks called my office offering to help us get the deal done. But it's not something we think is going to happen anytime soon.