Chevy Volt can go the distance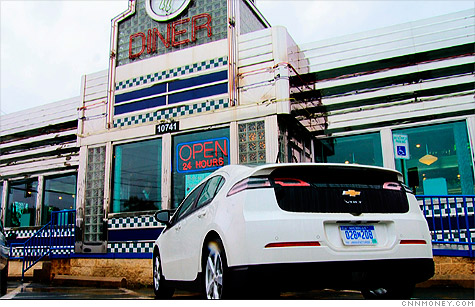 DRIVING ON I-95 (CNNMoney.com) -- On a long rainy-day drive from Washington, D.C., to Times Square, the Chevrolet Volt showed itself to be more than just a technological oddity.
The Volt, it turns out, is a really good, fully functional automobile that could just save you a lot of cash on gasoline, too.
I left DuPont Plaza on a rainy Thursday morning with the Volt's battery not quite all the way charged. Functioning as a fully electric car for the first 34 miles, the Volt drove in near complete silence across town, onto I-95 and up to Baltimore.
What impressed me most wasn't just the absence of engine noise -- that was expected -- it was the absence of pretty much any sound at all.
In many cars, eliminating engine noise only serves to reveal other, more annoying sounds like rattles, road noise, transmission sounds or, in hybrid cars, electric motor clicks in whirrs. The Volt, on the other hand, was nearly stone silent right up to 80 miles per hour.
As we approached Baltimore, the Volt's battery finally faded too much to drive the car on its own. This moment was the real point of the exercise. In a regular electric car with a 100 mile battery range, I'd want to turn around and head back home or risk running out of juice.
In the Volt, there wasn't much to mark the occasion except the disappearance of a battery logo on the computer screen the car uses in place of a gauge cluster. In its place swooped in a graphic shaped like a gasoline pump that displayed my remaining total range, something over 250 miles.
Again, there was no noise. Even with the gasoline engine running, the Volt remained surprisingly hushed.
By the time we reached New York, overall fuel economy was very good but, on a long highway drive like this, only slightly better than an ordinary compact car. We averaged 37.8 miles per gallon. The gasoline powered Chevrolet Cruze, the car the Volt is based on, gets an estimated 35 mpg on the highway.
But keep two points in mind. First, I drove over 30 miles using no gasoline at all and, if the battery had been fully charged, I could have gone further. If I had just been driving around D.C. I had enough battery range for a typical day's commuting and errands without using any gasoline at all.
With nightly recharging, many owners could go months without using gasoline, so the Volt has built-in systems to prevent fuel from going stale inside the tank. The fact that I was able to drive all the way to New York while still getting getting very good fuel economy was, really, just a bonus.
Second, I was making no attempt, whatsoever, to drive efficiently. I figured I'd either be able to test the car's fuel economy or its performance, but not both. I went for performance.
I gunned it out of every toll booth exit and up every hill and watched the green ball on the gauge screen -- the one on that was supposed to coach me to drive gently -- fly up away from its center target, its spinning green leaves dying away, ostensibly killed off by my exhaust fumes.
Alas, for all the Volt's many strengths, heart-pounding performance isn't among them. This car is the very definition of "fast enough."
The Volt's lack of a transmission with different gears adds to its seemingly casual attitude toward acceleration.
That means there's no abrupt downshift with the resultant "kick in the pants" sensation we're all used to. Instead, there's a feeling of gently increasing speed accompanied by the sound of the engine revving until the gas pedal it released
But racing thrills aren't what Volt buyers will be looking for. They will be people who like the idea of an electric car but who don't want to plan their lives around a battery.
They'll also be looking for a good car, and they won't be disappointed. The Volt has a sophisticated, almost luxury-like, feel over the road. The steering is very responsive and the battery pack, which runs down the center of the car and across the back, provides a nice weight balance. Braking, often a weak point in hybrid and electric cars, is also smooth and predictable.
The Volt's interior is trimmed out in a way that makes it look appropriately high tech. It has few buttons or knobs, mostly touch-activated bumps. It all works pretty nicely.
Bottom line, the Volt is a very good car and oh, it can drive for 40 miles without using any gasoline.