Ford offers test drives at home for F-150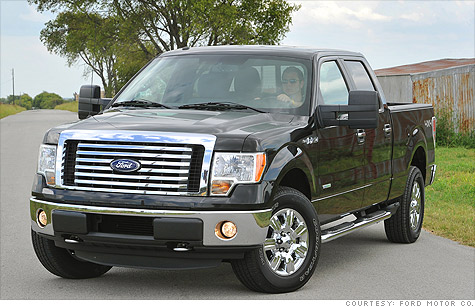 NEW YORK (CNNMoney.com) -- Ford Motor Co. is launching an aggressive campaign for its top-selling F-150 pick-up truck featuring the new EcoBoost engine: the company is bringing the truck to your house for a test drive.
Ford (F, Fortune 500) said it is launching a 60-city tour to push its 2011 F-150 Roundup. Potential buyers can sign up for a Ford representative to bring the truck to the participant's house or place of work for a 30-minute drive.
This newest model of the F-150 has the EcoBoost V-6 engine, which uses twin turbo charging and direct fuel injection. Ford is touting this EcoBoost engine as being just as powerful as a V-8, with its 365 horsepower, up to 11,300 pounds of trailer tow capacity and up to 3,060 pounds of payload capacity.
"We want to give as many customers as possible the opportunity to drive it before it's even available at their local Ford dealership," said Marc Lapine, F-150 consumer marketing manager, in a press release.
Ford plans to start the tour in Pittsburgh, Indianapolis, Cleveland and Columbus, Ohio. The home test drive offer will run through January.