Treasury yields higher following auction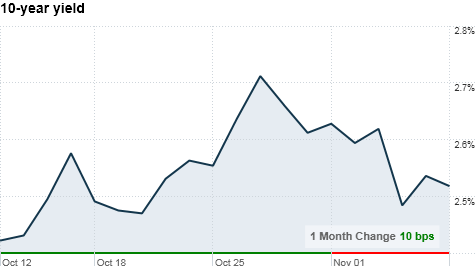 NEW YORK (CNNMoney.com) -- Treasuries came under pressure Monday as investors turned to a bond auction for direction in the absence of major economic reports.
The Treasury Department got an early start to this week's auctions by selling off $32 billion in 3-year notes Monday afternoon. Monday's auction was the first since the Fed announced it will purchase $600 billion of Treasuries, by the second quarter of 2011.
The 3-year note auction drew $104 billion worth of bids, for a bid-to-cover ratio of 3.26, suggesting that demand remains robust.
Treasury bond auctions later this week include $24 billion in 10-year notes on Tuesday, and $16 billion in 30-year notes on Wednesday.
Bond markets will be closed on Thursday for Veterans Day.
Yields: The yield on the benchmark 10-year Treasury note rose to 2.56% Monday from 2.54% on Friday. Bond prices and yields move in opposite directions.
Yields for the 30-year bond moved higher to 4.14%, the 2-year note was unchanged at 0.37%, and the 5-year note ticked up to 1.13%.
Economy: The three Treasury auctions are just about the only events on an otherwise uncrowded economic calendar for the early part of the week, as investors recover from last week's triple-threat of QE2, midterm elections and the government's unemployment report.
Later in the week, investors will get two economic datapoints that are likely to provide the market with direction.
"We have a lighter economic calendar," said Bill Larkin, portfolio manager at Cabot Money Management. "But at the end of the week we have retail sales data coming into the all important holiday shopping season, and the G-20."
The G-20 summit will be of special interest to bond investors, Larkin said, as member countries discuss the impact of QE2 and look for clues as to the stability of emerging markets.
Another hot topic at the G-20: European sovereign debt.
Concern over the debt levels of Greece and Ireland in particular might cause a rush to safe-haven U.S. Treasuries, if world leaders at the G-20 signal a reluctance to provide monetary assistance.