Americans' debt slashing nears $1 trillion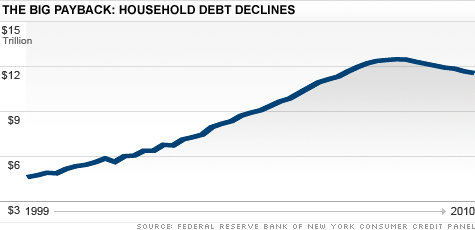 NEW YORK (CNNMoney.com) -- Americans have paid off nearly $1 trillion in debt over the past two years, although the pace of repayment has slowed, according to a regional Federal Reserve report released Monday.
Total consumer debt was $11.6 trillion as of Sept. 30; down 7.4%, or $922 billion, from the peak reached in the third quarter of 2008, according to the Federal Reserve Bank of New York. Consumer indebtedness fell another 0.3% in the third quarter, after a 3.3% decline in the prior quarter.
In addition, total household delinquency rates fell for the second consecutive quarter. The report said 11.1% of outstanding debt was in some stage of delinquency at the end of September -- compared to 11.4% on June 30, and 11.6% a year earlier.
"If consumers can continue to repair their balance sheets, that bodes well for the sanity of the economy in the long term," said economist John Canally of LPL Financial.
About 457,000 people went into foreclosure in the third quarter, a 5.5% decrease from the number of new foreclosures in the second quarter of this year. Bankruptcies also fell 16% from the previous quarter.
Excluding the effects of defaults, non-mortgage debt fell for the first time since 2000, according to the Quarterly Report on Household Debt and Credit. Also, mortgage debt paydowns, which began in 2008, reached nearly $140 billion by the end of 2009.
The number of open credit card accounts fell 24% from their peak in 2008.
"Americans are borrowing less and paying off more debt than in the recent past. This change, which we continue to study carefully, can be a result of both tightening credit standards and voluntary changes in saving behavior," Donghoon Lee, senior economist in the Research and Statistics Group at the New York Fed said in a statement.
"Lending practices are tight making it more difficult for people to secure new debt," said Chris Viale, president and CEO of Cambridge Credit Corp., a nonprofit credit counseling agency based in Agawam, Mass. "The only choice they have is paying down debt."
At the state level, Arizona, California, Florida and Nevada continued to post higher-than-average delinquency and foreclosure rates than the nation as a whole.