The Windows Phone 7 chicken vs. egg problem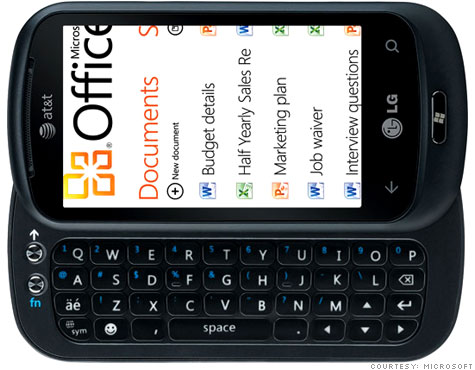 NEW YORK (CNNMoney.com) -- Windows Phone 7 goes on sale today, and Microsoft is holding its breath to see how its new, hyped-up smartphone software sells.
Microsoft (MSFT, Fortune 500) knows it has a difficult hill to climb against entrenched smartphone platforms like Research in Motion's BlackBerry, the iPhone and Android. But Microsoft CEO Steve Ballmer believes it will "sell like crazy," arguing that Windows Phone 7 is refreshingly different and incorporates only the best aspects of its competition.
Except there's a catch, and it has to do with Ballmer's favorite subject: Developers ("Developers, developers, developers!") and apps.
"Developers write apps when there are a number of devices sold, but devices are sold when there are a lot of apps," said Al Hilwa, analyst at IDC. "Microsoft is facing a Catch-22 situation with Windows Phone."
Having a marketplace that's chock-full of apps has become an expectation of smartphone buyers. From flashlights to Angry Birds to The Weather Channel, users expect to fill up their devices with cool apps.
Microsoft's app marketplace currently has more than 2,000 apps. But that's paltry compared to the 100,000 on Google's (GOOG, Fortune 500) Android marketplace and 250,000 on Apple's (AAPL, Fortune 500) App Store.
To solve the chicken-and-egg conundrum, Microsoft plans on putting the full weight of its marketing muscle behind Windows Phone 7.
"It's going to be difficult to break through, but we're going to pull all of the levers coordinating our marketing approach," said Greg Sullivan, Microsoft's senior product manager for Windows Phone 7. "Our message is going to be clear: This is a phone that does stuff for you."
The company worked hard on its partnership with AT&T (T, Fortune 500), which is set to have a wall dedicated to Windows Phone 7 in each of its stores. It also has begun an amusing marketing campaign, which has already aired during high-profile events like the World Series.
Getting developers on board
Microsoft also thinks it's got the developer problem covered.
Windows Phone 7 apps are written in .NET, the same software framework for programs for Windows. .NET is incredibly popular, with hundreds of thousands of developers writing to it. Not only that, but Microsoft's .NET developers have been quite willing to pay for Visual Studio and other tools needed for writing Microsoft apps.
"There will be lots of apps, because there are loads of .NET developers who love Visual Studio," said Hilwa. "There were lots of developers who learned new platforms to capitalize on the iPhone. That phenomenon may not be repeated, so it's nice if you can latch onto an existing developer community."
Developers agreed that writing apps for Windows Phone 7 was easy and familiar.
Intuit (INTU), the parent of TurboTax, said it took the company just six weeks and one developer to create its Taxcaster app for Windows Phone 7 -- pretty speedy in the app development universe.
"We're always looking for new opportunities," said Murthy Pidaparthi, development manager for TurboTax. "Our familiarity with Microsoft's development and tools really helped."
Jeremy Ruggaber, developer for IAC's (IACI) Match.com Windows Phone 7 application, also said it was very easy to develop an application for Windows Phone 7, since the company simply rejiggered its application for the iPhone and Android phones.
He said the dating website uses .NET and Visual Studio all the time for its Web applications, and the building process for the Windows Phone app took just two months.
One of the biggest challenges Microsoft faces is getting software developers to write applications for it as well as Apple, Research in Motion (RIMM) and Google's Android.
"There's interest from developers in Windows Phone 7, but the real question is whether developers will be willing write to a third or fourth platform," said Jeff Hammond, analyst at Forrester Research.
As a result, Microsoft has tried to emulate the community aspects of open source that appeal to developers. Some experts think Microsoft stands a good chance at rallying its developer community.
But the company clearly faces an uphill battle.
"We hope it succeeds, but we'll see," said Ruggaber. "There are lots of challenges. I'd probably recommend the platform to my mother, but developers are still all about Android. It's just the most open platform."