Recession's casualty: Charity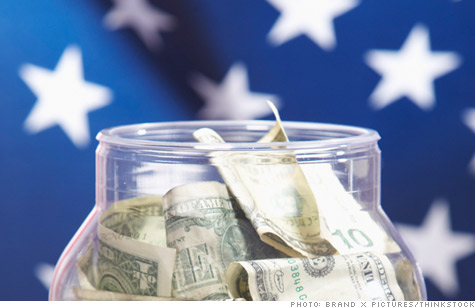 NEW YORK (CNNMoney.com) -- As the recession whacked the economy, charitable giving by even the wealthiest Americans took a substantial hit, according to a study released Tuesday.
Although 98.2% of high net worth households donated to charity in 2009, they gave substantially less than in the years before, according to a survey for Bank of America Merrill Lynch by the Center on Philanthropy at Indiana University.
Average charitable giving by wealthy households sank 34.9% to $54,016 last year -- down from $83,034 in 2007, after adjusting for inflation. The Center on Philanthropy conducts its study every two years.
"The reality is that while the level of commitment is holding steady, folks are feeling constrained, they have less money to give away," noted Claire Costello, national foundation executive for Bank of America Merrill Lynch.
While the very wealthy cut back sharply, overall giving suffered a milder decline. Total charitable donations fell 3.2% in 2009 from a year earlier, the report's authors estimate. In that same time, the unemployment rate rose to 9.3%, up from 5.8% in 2008.
High net worth households account for 65% and 70% of all individual giving in the U.S., according to the Center on Philanthropy. It surveyed those with a household income greater than $200,000 or net worth of at least $1 million. The average wealth of the survey's 800 respondents was $10.7 million.
Asked why they stopped giving to organizations they had supported in the past, the top response by far was that the particular charity solicited money too frequently or asked for inappropriate amount.
Nearly 60% of those surveyed said that was why their donations dried up. More than a third said they decided to support other causes instead, and 29% said they stopped giving because their household circumstances changed.
Health organizations were hit the hardest by the change, with a 64% drop in the size of their average donation. But a few fields bucked the trend: Giving for the arts, environmental and animal care causes, and for international aid increased from 2007 to 2009.
More than three-quarters of the high net worth individuals surveyed gave their time as well as money in 2009. Those polled said they spent a median of 200 hours a year on their volunteer activities.
In a separate survey, 40% of charitable organizations and private foundations said that contributions declined during the first five months of 2010 compared to the same period the year before, according to non-profit research firm GuideStar.