Mayor Mike holds a dinner for The Giving Pledge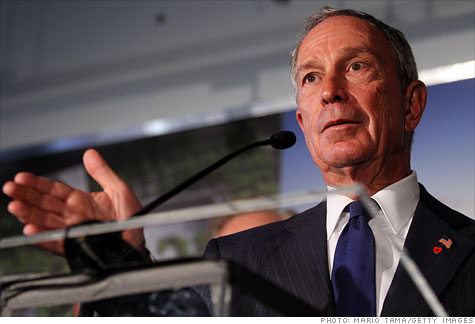 FORTUNE -- The Giving Pledge-the drive started by Warren Buffett and Bill and Melinda Gates to get billionaires to donate at least half their wealth to charity-has 40 signers listed today on its website, givingpledge.org. And a full-blown campaign to enlist more givers continues.
Last week, early signer New York City Mayor Michael Bloomberg added his personal might to the project by holding a dinner for prospects. The site was the sleek and elegant Manhattan offices of his foundation.
On hand to push their big idea were Buffett and the Gateses. They've personally made the pledge, of course, and so had a few others at the dinner. Among these were former Citigroup (C, Fortune 500) chairman Sandy Weill, and his wife, Joan; Blackstone's Pete Peterson; and private equity investor Carl Icahn.
Not that many people know about Icahn's participation: His pledge, though made days before the dinner, is so new that it's not yet posted on the website. But his letter (provided to Fortune at its request) says he sees a point in going public today with intentions he privately declared long ago. "I certainly see the value of a project," Icahn says in his letter, "that encourages wealthy individuals to step forward and commit to use their wealth for the common good."
You could say the purpose of Bloomberg's dinner was to get that message across to the prospects there. Among these people were a corps from the financial world: hedge fund operators Leon Cooperman of Omega Advisors and John Paulson of the eponymous Paulson & Co.; private equity dealmaker Ted Forstmann; David "Sandy" Gottesman of money manager First Manhattan Co. (and a Berkshire Hathaway director and investor besides).
Mike Bloomberg tapped his personal mailing list to invite some of the men with whom he had 28 years ago started Bloomberg LP -- purveyor of the Bloomberg terminals that are today ubiquitous in the financial world. Among those who came to the dinner was one of the men still running that company, the head of all financial products, Tom Secunda.
Altogether, 29 people (spouses included) dined at a long, narrow table that mainly limited conversation to those sitting close by. Then many attendees gave short talks. Some of these talks -- those made by the already-committed -- championed the Giving Pledge philosophy. The prospects themselves described their own philosophies of giving and where they stood on carrying out their plans.
In his speech, Buffett recalled that the late Larry Tisch, of Loews Corp. (L, Fortune 500) -- whose wife, Billie, was at the dinner -- had given him and his first wife, the late Susan Buffett, the idea of funding charitable foundations for their children, Susie, Howard and Peter. Today, each of the three is deeply involved in running a foundation endowed with Buffett money.
Then, Buffett supplied the biggest news of the evening, by stating exactly what his children are slated to get from him when he dies. A little perspective here: Precisely 24 years ago, when Fortune first wrote about Buffett's views on this subject (Should You Leave It All to the Children?, September 29, 1986), Buffett emphatically said no to the title's question. He thought "a few hundred thousand dollars" might be a good amount for him and his wife to leave each of the kids. But inflation and his own ruminations have since changed his opinions.
He told the dinner attendees that Susan's will had left each of the children $10 million and that his own will, which he happened to have just rewritten, provides that each will get $15 million. That figure obviously reflects a huge leap from "a few hundred thousand dollars."
But that's a total of $45 million, with an "m." That's minuscule compared to Buffett's fortune of close to $50 billion, with a "b." Almost all of the Buffett fortune is scheduled to go to foundations, at their lead the Bill and Melinda Gates Foundation.
How going public with giving has affected the pledged
Talking to Fortune a few days after the dinner, Sandy Weill said he believed that Buffett's speech supplied valuable perspective to two sets of monied people -- those thinking about what to give their children and the children themselves. Weill thought it "terrific" that Buffett spelled out what his will says.
When his own turn came to speak, Weill used his Giving Pledge experience to address the dread that many wealthy people have of publicly identifying themselves as big givers and thereby attracting new requests for donations. Weill said the commitment letter that he and his wife wrote, and that was posted, elicited only a small number of solicitations. Instead, about 80% of the responses the Weills received, he estimated, were letters and calls congratulating them for being an inspiration to other people of wealth.
Post-dinner, the fastest action appears to have been taken by prospect Leon "Lee" Cooperman. Within days, he sent a letter to Buffett, the Gateses, and Bloomberg that said he and his wife, Toby, "enthusiastically agree to take the Giving Pledge."
Both Cooperman's letter and a short talk he gave at the dinner recalled his up-from-nothing history, a background common to many other Giving Pledge signers. He is the son of a South Bronx plumber and was the first in his family to get a college degree. A Columbia University MBA got him to Goldman Sachs (GS, Fortune 500), where he says he spent nearly 25 years of "happiness and good fortune" before moving on to found hedge fund Omega Advisors.
Talking to Fortune this week about the Bloomberg dinner, Cooperman mused about his Goldman days when he says Mike Bloomberg came to him "literally begging" that Cooperman put Bloombergs on the desks of the people working for him. That's a long way, noted Cooperman, from hosting a billionaires' dinner.
As for Cooperman's giving, his letter concludes with a Talmudic declaration: "A man's net worth is measured not by what he earns but rather what he gives away."
Fortune senior editor-at-large Carol Loomis, who wrote this article, is a longtime friend of Warren Buffett's. Additionally, her husband, John Loomis, is a partner in First Manhattan Co., whose founding partner, David S. "Sandy" Gottesman, was a guest at the Bloomberg dinner.