Ask.com ditches its search business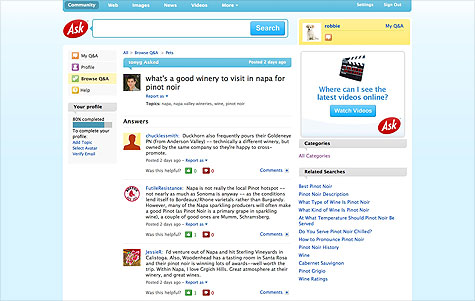 NEW YORK (CNNMoney.com) -- Ask.com, long relegated to also-ran status in the search-engine war, is cutting 130 engineering jobs and outsourcing its search technology.
The news, first reported by Bloomberg and later confirmed by the company, is a concession that the 14-year-old search engine can't catch up to leaders like Google and Microsoft's Bing. Like Yahoo, which outsourced its search technology to Microsoft, Ask.com will stop working on its search algorithm and instead hire a third-party company to provide that technology.
A spokeswoman for Ask.com, which digital conglomerate IAC (IAC) bought in 2005, said the company was laying off engineers based in Edison, N.J., and in China. She declined to comment on which companies it is approaching about a search partnership.
Ask.com plans to focus on developing its online question-and-answer service, in which actual humans field customers' queries. An "ask the community" program launched in July.
"We know that receiving answers to questions is why Ask.com users come to the site, and we are now serving them in everything we do," company president Doug Leeds said in a blog post on Tuesday.
According to data tracker ComScore, Ask.com had just 3.7% of the search market in September, while Google (GOOG, Fortune 500) commanded almost 65% share. Still, Ask is still the sixth-largest Web property in the world, according to Compete.com.
In July, Leeds told CNNMoney that 30% of the site's current traffic comes in the form of questions entered into Ask.com's search box. He thinks people first go to Google in an effort to find answers, but if that doesn't work they head to Ask.com.
It's a big bet -- many sites, including Google, have tried and failed to create a community-powered "answers" platform.
In his blog post Tuesday, Leeds acknowledged Ask's past misses: "Ask has taken a lot of flak through the years, fairly and unfairly, for not having a focused, cohesive strategy."