Tech darlings making a comeback: JDSU, Qualcomm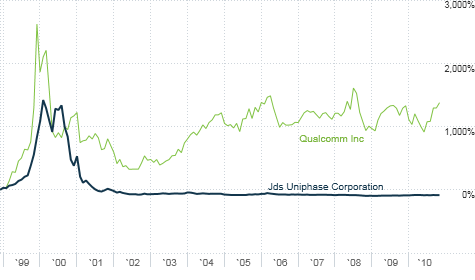 NEW YORK (CNNMoney.com) -- From the files of "that thing still trades?" comes a feel-good redemption story that even the most hard-hearted of investors has to love.
Some of the most infamous stocks from the 2000 tech bubble have quietly reasserted themselves and are winning back fans with a slow and steady drumbeat of good news.
Bubble veterans Qualcomm (QCOM, Fortune 500) and JDS Uniphase (JDSU), high-tech component suppliers to the wireless and optical biz, are once again garnering press and attention amidst a resurgence for their end markets.
In the case of Qualcomm, a decade later investors can still tell you all about its fabled $1,000 price target. This target proved absurd when the stock split 4-for-1 the following day but it was a major milestone amid the frenzy of those days.
Qualcomm's stock has essentially flat-lined over the last decade. But, since July, the stock has been staging a furious rally to 52-week highs. The stock's fans point to the upcoming Verizon (VZ, Fortune 500) iPhone and its need for Qualcomm's CDMA technology along with the white-hot outlook for tablets that use the company's "Snapdragon" chipset.
Meanwhile, JDSU, formerly JDS Uniphase, was the poster child of bubblicious tech stocks, having traded into the $300's followed by a $40 billion merger with a competitor.
We used to refer to it as the Michael Jordan of the Nasdaq since every day it seemed to soar over our heads, 3 points at a time. When the tech bubble burst, JDSU saw demand for its optical offerings evaporate and its share price implode. By 2002, it was was a single-digit disaster.
But JDSU is back in a major way, posting a year-over-year gain of 87% and beating estimates with each financial report. Gross margins have improved significantly and, according to a recent story in Barron's, the sky is the limit for JDSU's end markets.
Those include the next generation wireless Internet, motion sensor video games and even 3D TV.
JDSU and Qualcomm aren't the only Bubble Superstars from that era making moves. Other comeback tech stocks with huge year-over-year gains include Finisar (FNSR) -- up 143%; ADC Telecom (ADCT) -- up 93%; and Powerwave (PWAV) -- up 73%.
One caveat before anyone plows into these stocks: Component and chip suppliers are the very worst forecasters of their own future prospects. They are, by their very nature, sitting at the end of the supply chain.
The component guys are the last to see the end of the cycle coming as spending at the major carriers and original equipment manufacturers begins to crest.
Relying solely on guidance from a component CEO is like putting your train's conductor in the caboose and asking him how things look up the track. For now, expansion has arrived in the communications equipment sector and some of our old favorite component plays are back in action.
As web video, mobile computing and app mania suck up more and more of our time and bandwidth, the companies making the blood and guts stand to benefit. If you're trading these names, just be sure to watch the carriers' budgets too, as they are holding the purse strings.
Joshua Brown is a New York City-based financial advisor at Fusion Analytics and the author of The Reformed Broker blog. The commentary above is for informational purposes only and does not in any way constitute a solicitation to buy or sell any securities.