Electricity Storage: Can It Work?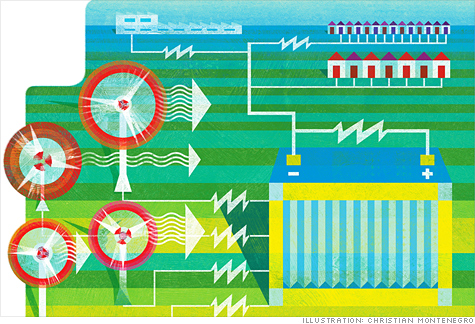 FORTUNE -- The curious thing about electricity is that it is the only commodity we can think of -- with the possible exception of soufflé chocolat -- that has to be consumed the moment it is made. Power travels across the grid at the speed of light. And what isn't used is wasted. Now, a new industry is emerging that could change all that. "Grid storage" could, says Pike Research, hit $35 billion in sales by 2020, up from only $1.5 billion today.
Here's how it works. A major problem with wind power is that, well, the wind doesn't constantly blow. When it stops, the sudden drop in electricity can cause the grid to flicker and pop. Moreover, wind blows more at night, when lots of power isn't needed, and much of it is wasted. The solution: Save the energy in giant storage systems and have it ready whenever needed.
Some 130 companies, many of them startups, are now betting on storage technologies that range from flywheels to heated gravel pits to caverns full of compressed air. The big guys are playing too. GE (GE, Fortune 500) is investing $150 million in a sodium-battery plant to sell storage to utilities. Amplex of Denmark announced it would build a $4 billion energy storage facility on the Mexican border.
One technology showing promise is lithium-ion batteries -- the same ones used in electric cars. That's no accident. The world's makers of lithium-ion car batteries, such as Samsung in Korea, BYD in China, andA123 (AONE) in the U.S., see grid storage as a huge potential market.
At first, battery technology will be used to make fossil fuel plants more efficient. AES (AES, Fortune 500), which operates more than 130 power facilities globally, has installed batteries built by A123 at its coal plant in Chile. They can supply power the second demand surges. Before, the plant had to run at, say, 93% capacity, so it could ramp up if demand spiked. The batteries take care of spikes, so the plant today can run at near full speed. AES Power Storage president Chris Shelton says the power plant is 4% more efficient.
Critics of grid storage say we don't need it -- the technology is expensive, and it would be better to manage consumer demand. That means that if a wind farm drops in power, just use the smart grid to shut off everyone's water heater for a few minutes until power levels are restored.
Andy Chu, vice president of marketing for A123, in Watertown, Mass., counters: "The price of the technology is dropping fast, and turning off someone's water heater may work in theory, but the capability to do that is not widespread."
Storage has vast potential. It could be used to quickly charge electric cars without straining the grid. And home storage units could salt away power from rooftop solar panels for cloudy days. John Newman of McKinsey says, "This technology will disrupt a huge variety of industries." Get ready for some future shock.