Energy in 2035: China and oil dominate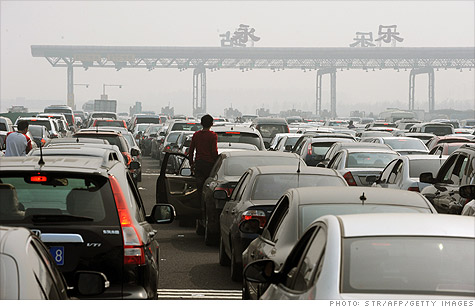 NEW YORK (CNNMoney.com) -- China will continue lead the charge as the No. 1 energy consumer over the next quarter-century, and oil will remain the dominant fuel despite huge investment in alternatives, according to a International Energy Agency report released Tuesday.
The agency forecasts that China's demand will soar by 75% between 2008 and 2035, compared to an overall surge of 36% in international energy use. While Americans still lead the world in per capita energy use, China overtook the United States last year as the primary energy user.
"It is hard to overstate the growing importance of China in global energy," said Nobuo Tanaka, executive director of the International Energy Agency. "How the country responds to the threats to global energy security and climate posed by rising fossil-fuel use will have far-reaching consequences for the rest of the world."
The report described China as being at the "forefront of efforts to increase the share of new low-carbon energy technologies, including alternative vehicles."
Internationally, the use of renewable energy sources -- hydro, wind, solar, geothermal, biomass and marine energy -- is expected to triple between 2008 and 2035, according to the report. Governments are expected to feed this effort by ramping up investment in renewable energy sources such as biofuels to $205 billion in 2035 from $57 billion in 2009.
Use of nuclear power is also expected to increase, the report said.
But despite all the investment in cleaner alternatives, the overall mix of energy use is expected to be little changed, with oil remaining the most popular energy use in 2035, followed by coal, the report said.
As a result, oil demand is forecast to rise to 99 million barrels per day in 2035, compared to 84 million barrels per day in 2009, the report said. As a result, the price of oil is expected to increase to $113 per barrel in 2035 from about $87 currently.