Is the worst over for Bank of America?
NEW YORK (CNNMoney.com) -- You've probably heard Kiefer Sutherland refer to Bank of America in television commercials as the bank of opportunity. But is the beaten-down stock actually a good investing opportunity?
With all due to respect to Jack Bauer, BofA (BAC, Fortune 500) may still be a company to avoid.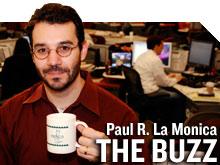 Sure, the stock has gained about 12% since hitting a 52-week low in late October. It's outperformed shares of the other three mega-commercial banks: Citigroup (C, Fortune 500), JPMorgan Chase (JPM, Fortune 500) and Wells Fargo (WFC, Fortune 500).
But the reason BofA fell as much as it did in the first place -- concerns about its exposure to foreclosures that may have had improper documentation -- has not gone away.
I pointed out in a column in mid-October that the broad bank sector sell-off on foreclosure worries may have been an overreaction. Still, people I spoke to then conceded that BofA had the most risks -- particularly because of the bad loans it inherited thanks to its decision to purchase Countrywide in 2007.
One fund manager even said at the time that BofA could be forced to raise more capital to cover potential legal expenses.
Several weeks have passed and it's still unclear whether or not Bank of America is out of the woods just yet.
One hedge fund has taken a deeper look at the potential losses for the big banks though and has identified some significant risks for BofA.
Iridian Asset Management estimates that if BofA had to buy back a significant chunk of delinquent loans, a best-case scenario would be a pre-tax loss of at least $50 billion over a period of a few years. A worst-case outcome could be a pre-tax loss of $113 billion.
Iridian, based in Westport, Conn., has a short position in BofA. Jeff Silver and Ben Hunt, two managing directors with Iridian, provided these estimates in their firm's third-quarter letter to shareholders.
Hunt and Silver admitted that foreclosure liabilities may not be a disaster for BofA since the bank will probably be able to set aside future profits from other divisions against the mortgage losses.
But they wrote that BofA probably would need to raise some additional equity to meet regulatory capital requirements. Hunt and Silver added that they don't think the government will help BofA or other banks if they need more funding either.
"Unlike 2008 ... we do not believe that the Fed and Treasury will spearhead a capital replenishment effort through some sort of TARP 2, which means that the impacted banks are on their own," they wrote.
Bank of America would not comment about how high potential losses could be. But a spokesman said $18 billion of the $27 billion worth in claims tied to disputed loans from 2004 through 2008 have already been resolved.
"We believe the costs associated with the mortgage repurchase requests are manageable. Also, not every claim will result in an actual repurchase," said Jerry Dubrowski, a spokesman for the Charlotte-based bank.
Another hedge fund manager who owns shares of BofA agrees, and thinks the potential losses are much lower than Iridian's estimates.
Gary Townsend, president and CEO of Hill-Townsend Capital LLC, a hedge fund in Chevy Chase, Md., that focuses on the financial sector, estimates that BofA will be faced with a loss no greater than $12 billion. He adds that the stock has probably hit bottom.
"The worries are overblown. The risk is modest." he said. "The market has decided that selling the stock to as low as it did wasn't sensible."
Still, the big problem facing BofA investors is that all they have are estimates.
For that reason, one fund manager said it's probably better to just avoid BofA entirely as opposed to making a huge bet for or against its stock.
"Countrywide was certainly one of the worst players in the mortgage market with respect to underwriting," said Glenn Tongue, managing partner with T2 Partners, an investment firm in New York. "We have long been skeptical of the liabilities related to foreclosures. But Bank of America is extremely complicated to understand."
Tongue said T2 has a small short position in BofA -- but that dates back to the beginning of the financial crisis in 2008.
He added that his firm is paying attention to the latest mortgage problems facing banks (Foreclosure-gate? Document-gate? Robo-signing-gate?) in order to find other financials that could be good targets to short. But it's too soon to gauge the ultimate cost to banks and just how widespread the damage will be.
"The liabilities are not going to be equally spread out among all the banks," Tongue said.
And even Townsend admitted that BofA is tough to love because of the decisions it made during the financial crisis. In addition to Countywide, BofA bought Merrill Lynch just as Lehman Brothers was about to file for bankruptcy.
"With Bank of America, it seems like one thing after another. There's no question that all the acquisitions it did turned out to be problematic," Townsend said.
- The opinions expressed in this commentary are solely those of Paul R. La Monica. Other than Time Warner, the parent of CNNMoney.com, and Abbott Laboratories, La Monica does not own positions in any individual stocks.