Foreclosures: Next shoe to drop for banks?
NEW YORK (CNNMoney.com) -- Bank stocks have been shellacked lately as investors worry about what impact the foreclosure scandal will have on the results for the nation's largest financial institutions.
Still, some fund managers think the market is overreacting and that the allegations of improper documentation for foreclosures and the resulting delay in some proceedings is not setting the stage for the next Bear Stearns or Lehman Brothers -- i.e. another major banking crisis.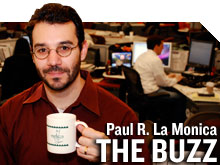 "There have been a lot of shoes to drop for bank stocks in the past few years. We've had enough shoes to take care of a centipede to say the least," said Frank Barkocy, director of research with Mendon Capital Advisors, a money manager that focuses on the financial sector. "But I think the worries about foreclosures may be overdone."
Investors seemed to agree, at least on Monday. The KBW Bank Index (BKX) rose more than 2% after Citigroup reported profits that were better than forecasts. Shares of Citi (C, Fortune 500) shot up nearly 4%.
Last week, the KBW Bank Index sank nearly 4.5% -- despite stronger-than-expected results from JPMorgan Chase.
The issue with mortgages and foreclosures is a question mark for banks, acknowledged James McGlynn, manager of the Calvert Large Cap Value fund. But he also thinks analysts' earnings estimates for banks have already been reduced enough to factor in more bad news.
"Think about where banks are now versus two years ago. We can deal with this situation," he said. "People are not talking about banks going out of business."
McGlynn owns JPMorgan Chase, Goldman Sachs (GS, Fortune 500) and Morgan Stanley (MS, Fortune 500) in his fund. Goldman will report its third-quarter results Tuesday while Morgan Stanley's release is due out Wednesday.
Barkocy added that many banks he's talked to seem to be on top of the foreclosure mess. For that reason, he thinks that the sell-offs in stocks like Citi, Wells Fargo (WFC, Fortune 500) and JPMorgan Chase (JPM, Fortune 500), which his firm all owns, makes them now "excellent values." Wells Fargo reports its third-quarter results Wednesday.
"So much has been made of the foreclosure problem, but it looks like more of a paperwork issue than a credit consideration," Barkocy said. "From what we're hearing from the banks, this may be a short-term concern, and it's one they think is manageable."
Doug Ober, chairman and CEO of Adams Express, a Baltimore-based closed-end fund that invests in U.S. stocks, also thinks that most of the big banks have ample enough reserves to deal with more foreclosure problems.
Ober owns JPMorgan, BofA and Wells. He did concede that if any of these banks take a hit from the foreclosure scandal, it would likely be BofA.
That's because it's still difficult to know just how many bad loans tied to the bank's purchase of Countrywide are affected. Ober said BofA could be forced to raise more capital if the problems are worse than feared.
"It's a bump in the road. The only question is how big of a bump it is," he said,
It might be lawmakers and regulators who decide how big that bump is. Congress and various bank watchdogs in Washington have stepped up their efforts to rein in reckless behavior by financial institutions as a result of the credit crisis.
So it's altogether possible that even if the banks declare that they have a handle on the foreclosure problem, lawmakers in D.C. and state attorneys general may not care.
"The biggest risk right now is regulation and a possible moratorium on foreclosures," said Joseph Mason, a professor of finance at Louisiana State University. "If you have regulatory action, it will become a guessing game as to when the moratorium will end. It would be like the Gulf deepwater drilling ban for the banking industry."
However, what's most interesting about the recent bank bloodbath is the fact that the broader market has turned a blind eye to it. The S&P 500 actually rose about 1%. Tech stocks, for example, surged Friday on the back of robust earnings from Google (GOOG, Fortune 500) even as bank stocks plunged.
So even if banks continue to get hit on more headlines about sketchy foreclosure practices, the entire market may not be doomed.
"This is not your average recovery because banks have been so flushed down the toilet. The market could hold up well if banks struggle. Earnings have been pretty good," Ober said.
- The opinions expressed in this commentary are solely those of Paul R. La Monica. Other than Time Warner, the parent of CNNMoney.com, and Abbott Laboratories, La Monica does not own positions in any individual stocks.